Above: Installation view | J'ai Deux Amours | Marianne Ibrahim Gallery, Paris | 2021
This week in African art and culture is one mixed with pleasant surprises and excitement. This is so because we bring news of notable practitioners in the scene, being highlighted for refreshing aspects of their abilities that might be unknown or even forgotten. For instance, Oliver Enwonwu, son of the renowned and arguably the most acclaimed modern artist in Africa, Ben Enwonwu, has for years been known for his role in advocacy and artist representation. This week however, he is being highlighted as an artist. There's also Simon Njami, who is one of Africa's most renowned international curators—particularly for curating Africa's biggest art festival, Dak'Art Biennale over the years—and who has staged a show at the University in South Africa. In the same vein, we also report news of a Senegalese author making the TIME 100 list for his work on restoring stolen African art.
On new beginnings and foraying into bigger spaces, a Chicago-based gallery, focused on representing artists from Africa, has just launched an outpost in Paris. Similarly, a literary critic and influencer has been given a bigger room to contribute to the ever-thriving literary scene by appointing her director of one of Africa's most reputable prizes…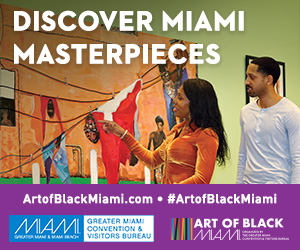 Marianne Ibrahim Gallery Opens New Outpost in Paris
After opening galleries in Chicago and Seattle that spotlight African artists, the French-Somali gallerist Marianne Ibrahim returns to Paris to expand the city's burgeoning interest in African art.
Mariane Ibrahim first moved to the U.S. a decade ago when she realized that, despite France's colonial history in Africa, there simply wasn't much of a market for art from the continent's diaspora. While most of her expanding roster hails from Africa or includes artists of African descent—Amoako Boafo, Peter Uka, Florine Demosthene and Maimouna Guerresi among them—she emphasizes that both her gallery and roster shouldn't be put into a box.
Ibrahim told Artnet News earlier in the year, when her move was first announced, "We're very lucky to be present for the beginning of a new resurrection of certain areas. Paris is becoming a city that's going to compete in the major art market, and we're eager to be a part of that."
The inaugural exhibition to launch the space opened Sept. 18, 2021, and it explores Ibrahim's mutual love for both the U.S. and France. Titled J'ai Deux Amours ("I Have Two Loves") after Josephine Baker's signature song about similar themes, the group show sees each participating artist create two never-before-seen works. It's a timely homage—Baker will be inducted into the French Panthéon, one of France's highest honors, for her work with the Resistance during World War II. Ibrahim described the exhibition as "an anthem for love and connectivity, emphasizing diverse cultural backgrounds as being sacred, especially amidst the rise of cultural resistance and the recent health crisis."
J'ai Deux Amours is on view until Oct. 13, 2021.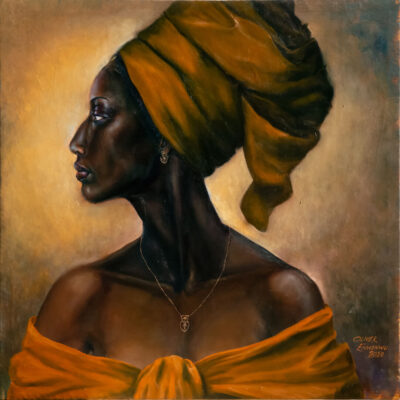 Above: Oliver Enwonwu | Ebony (from the Black and Proud series) | oil on canvas | 2020 | Courtesy of the artist and SMO Contemporary Art.
SMO Contemporary Presents Oliver Enwonwu's Politics of Representation at Omenka Gallery, Lagos
On view from the stables of SMO Contemporary Art is a solo exhibition titled Politics of Representation by Oliver Enwonwu, who returns to the scene as an artist after 11 years.
Through Enwonwu's strong figurative style, Politics of Representation interrogates the complex layers of history connecting the African continent with the West. His powerful portraiture celebrates the cultural, political and socio-economic achievements of Africans and how these have affected the identity of the global Black race. The exhibition contains works from Enwonwu's Black Victoria, Signares, Belle of Senegal, and Wanderers series, which explore the effects of migration, eventually "dissolving boundaries and our notions of time and space."
"His works are odes to beauty, excellence and regality, reminding one of visual poetry in the style of a classical Shakespearean sonnet," commented Sandra Mbanefo Obiago, the exhibition curator and the founder and artistic director of SMO Contemporary Art. "His brush strokes express stoic grace, poise and formality, at a time when figurative art in celebration of the Black body have formed a critical backbone of the global movements around Black identity, such as the recent Black Lives Matter generational cry of affirmation and power."
"In adapting 16th-century old masters' modes of representation and techniques, I explore how for example, the mixed heritage French-African women of the Island of Gorée in Senegal negotiated their identities during the 18th and 19th centuries,"explained Enwonwu, an artist and historian who is better known as an art advocate and as president of the Society of Nigerian Artists, the professional body for all practicing visual artists in Nigeria. "I celebrate the African woman in form and rhythm through jewelry, adornment, and apparel, drawing on historic narratives of black female defiance against cultural and political imperialism."
Some of the works in the exhibition, housed at Omenka Gallery, Lagos, Nigeria, are a homage to his late father's masquerade series, highlighting the spirituality and rhythmic movement of the dance of the masquerade, a performance that transcends time and space to rest on a sensory level of liberation.
"Oliver finds ways to imbue his imaginary sitters with a sense of identity, allowing their distinctive features, clothing and compelling posture to give the otherwise unknown character a clear sensibility. Oliver's vivid portraits, depicted in stylish, colorful attire, imbue his subjects with a strong sense of regality, autonomy and self-assertiveness," commented Hannah O'Leary, director/head of modern and contemporary African Art at Sotheby's.
Enwonwu holds a master's degree in visual arts with distinction from the University of Lagos, Nigeria and is currently working towards his Ph.D. in African art history at the University of Benin. He comes from a long line of remarkable artists, including his grandfather, a reputable traditional sculptor, and his father Ben Enwonwu, widely known and celebrated as Africa's most celebrated pioneer modernist. He has participated in over 15 exhibitions, spoken about the global art market at global conferences, and has been featured in international media including the BBC, Arise TV, The Daily Times and Vanguard.
Politics of Representation is open to the public until Oct. 10, 2021.
Simon Njami Exhibits IM-POSSIBILITY at Buyaphi University, Soweto, South Africa
IM-POSSIBILITY is an international tour of happenings and art, a traveling exhibition of sorts that will take place around the world between September and November 2021.
The exhibition is a way to re-think approaches to art and an invitation to experience it and engage with it in a new decentralized manner. It features 22 international artists from very different backgrounds, cultures and generations who will be reflecting on IM-POSSIBILITY while curating his/her events in their respective locations. The documented events will come together on its website (im-possibility.com), which will be populated gradually with content as the happenings take place.
Curated by Elena Korzhenevich, IM-POSSIBILITY was conceived during the first Parisian lockdown in March 2020. 
The exhibition will open in Berlin, and travel to cities including Moscow, Johannesburg, Cairo, Sfax, Tunisia, Antananarivo, Madagascar, Los Angeles, Dakar, Senegal, Brussels, Paris and Montreal from September–November 2021. 
Senegalese Author Felwine Sarr on the 2021 TIME 100 List for His Work on Restoring Stolen African Art
A Senegalese academic, Professor Felwine Saar is on TIME's 100 list for his contributions to a groundbreaking report on African artifacts. Titled The Restitution of African Cultural Heritage: Toward a New Relational Ethics, the report argues for the return of artifacts stolen by European colonial powers from Africa and Asia.
Renowned architect Victor Adjaye presented the tribute to Sarr and his collaborator Bénédicte Savoy. He cited the significance of the report, which he says is "a testament to the fight against colonial legacies of violence." 
In addition to its urgent message about the need to restitute African and Asian artworks to their countries of origin, the report provides a framework to guide the emergence of new institutions and spaces that decenter the power dynamic and objectification created by the West. Felwine and Bénédicte created a theoretical basis for that work, a radical call for understanding how restitution can become a tool for restoring lost memories, and from that new construct can emerge new teaching tools within society.
Adjaye also noted the impact of the report, citing the efforts of "France and Germany and museums including Berlin's Humboldt Forum" to make good on the mandate to return these cultural objects.
Sarr is the author of Afrotopia and is a professor at Duke University.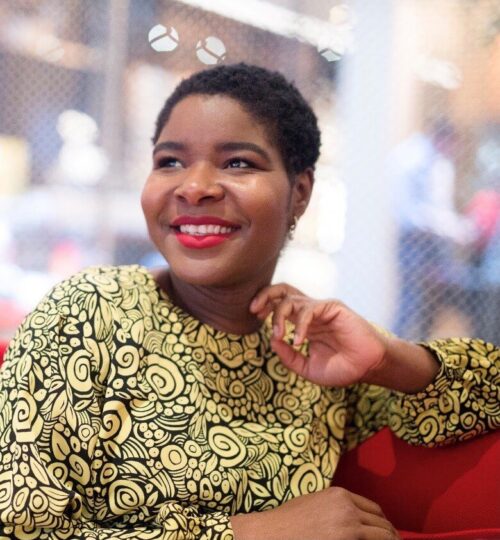 Above: Photo of Sarah Ozo-Irabor
Sarah Ozo-Irabor is Named the New Director of the AKO Caine Prize for African Writing
Literary critic and social media influencer Sarah Ozo-Irabor is the new director of the AKO Caine Prize for African writing. The news was announced in a press statement published during the week.
Ozo-Irabor is the founder of the Instagram page and podcast, Books & Rhymes. She has made considerable impact on the African literary scene. The press statement notes that "she has been instrumental in opening up transnational conversations on works by writers of African descent, not least through founding Books & Rhymes, a literary podcast that reimagines the transformative power of books and the way music and literature dialogue with each other."
The chair of the AKO Caine Prize, Ellah P. Wakatama OBE is delighted to have Ozo-Irabor on the team.  Commenting on her "passion for literature, her commitment and professionalism," Wakatama notes that she is "looking forward to seeing what else Sarah will bring to the Prize in her new role as its director."
In her remarks about her appointment, Ozo-Irabor said she is ready to hit the ground running: "I am excited to carry out the Prize's work from this new position and increase visibility for writers of African descent, together with the chair, the trustees and council members. It is a huge honor to be at the front of this journey, and I cannot wait to get started."
This appointment demonstrates that the AKO Caine Prize is attentive to the shifts taking place in the African literary scene. Ozo-Irabor's extensive knowledge of the literary scene, especially her knowledge of literature within social media and digital culture more broadly, means that she is attuned to the ways in which literary culture is changing. Hopefully, her presence at the AKO Caine Prize will assist the organization in meeting the challenges of the moment.
Ozo-Irabor has worked with media outlets and organizations such as BBC, City University of London, Detroit Public Library and Cassava Republic Press—and she has participated in the Edinburgh Literary Festival and Africa Writes Festival, among others, to produce live events or to serve as a literature specialist.
Compiled by Roli O'tsemaye