This week in African art, a new solo exhibition on Black representation is on view at ADA/contemporary in Accra, Ghana. On continuing conversation around restitution, a European country has announced the return of some African artworks to their home country. We also are excited to see amazing collaborations between one of the world's largest comic producers and an African artist, and film rights concluded on a forthcoming novel by one of Nigeria's emerging voices in the literary space…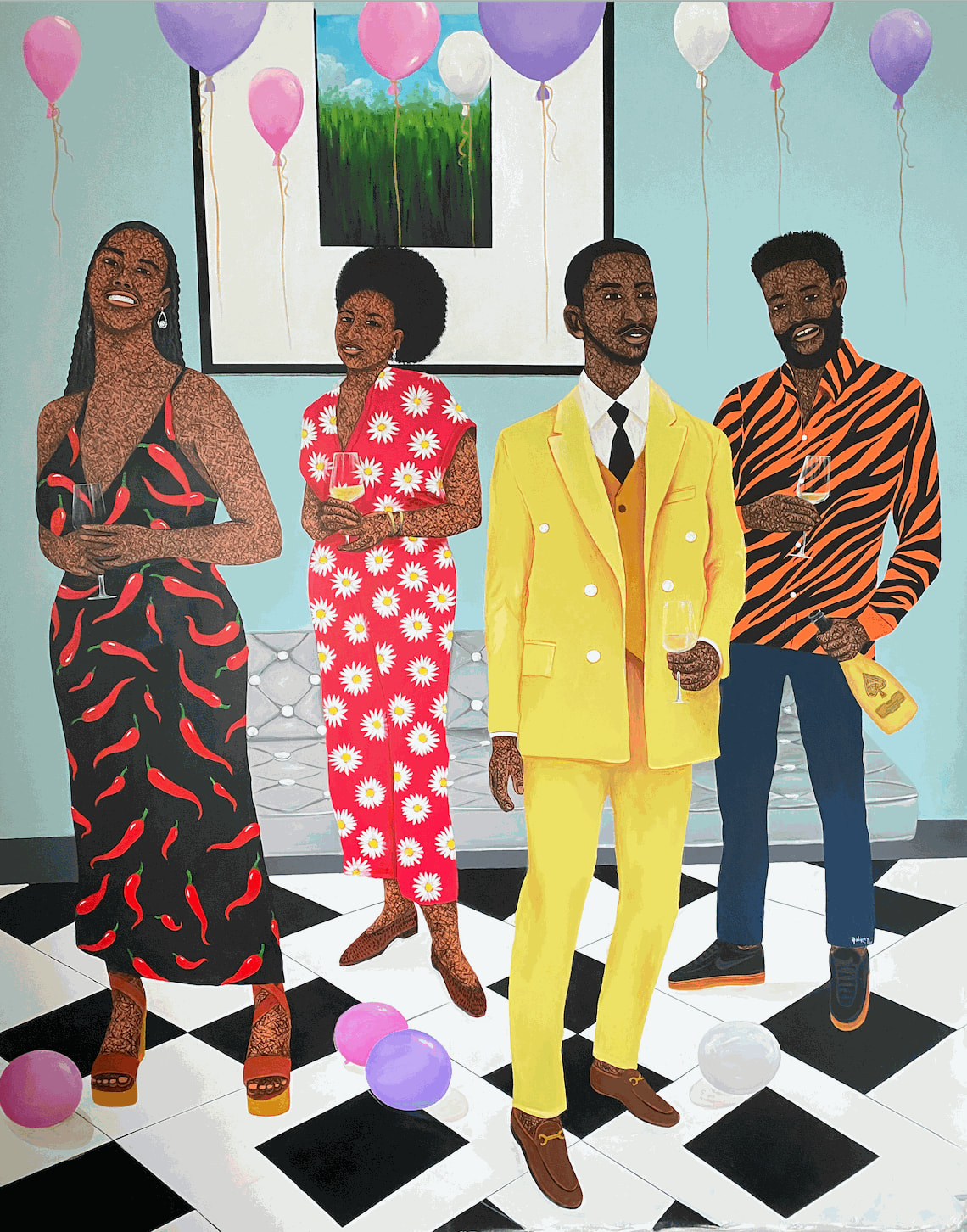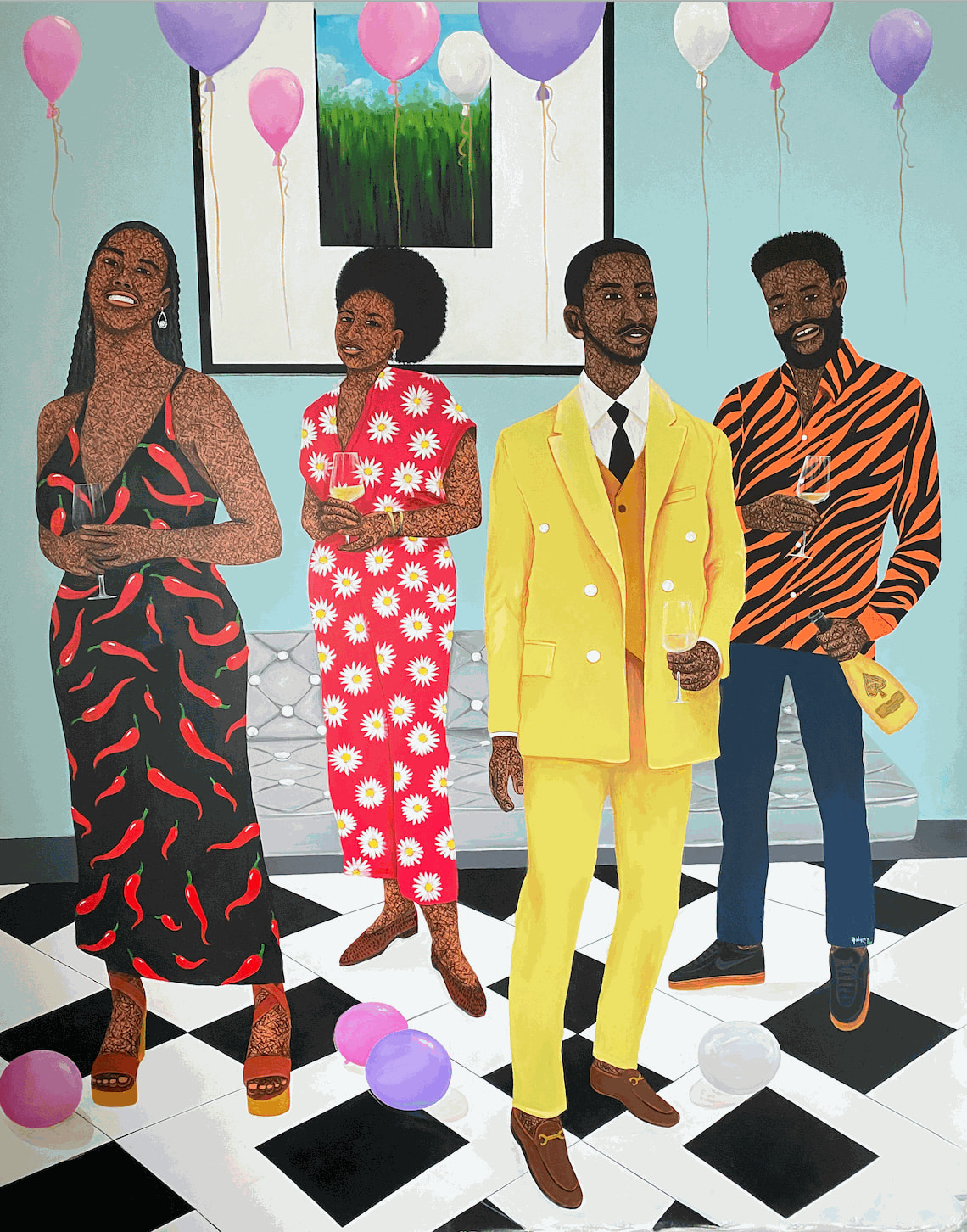 Above: Hamid Nii Nortey, Cross Hatching Affluence, 2021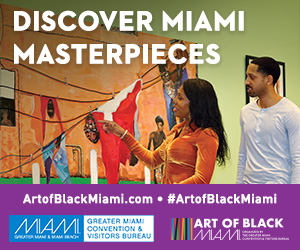 Cross Hatching Affluence by Amid Nii Nortey at ADA/ contemporary
At ADA /contemporary in Accra, Ghana, visitors are being welcomed to experience yet another figurative show on Black depiction and representation titled Cross Hatching Affluence.Created by emerging artist, Hamid Nii Nortey, these works come with a conscious rendition of glamorous urban scenes as they are witnessed in Africa's transforming urban landscape by its burgeoning middle class. This narrative reclaimsownership over prevailing narratives of poverty, war and primitiveness.
The show captures the expansion, architectural development and social dynamics that have emanated from Accra over the years. Looking to the inhabitants of the city as reflections of these changes, Cross Hatching Affluence is a visual snapshot of the growing middle- and upper-class elite that has come to represent an increasing share of Accra's, as well as the rest of Ghana's and the broader African continent's population. A testament to the extensive socioeconomic and industrial development of post-independence Ghana, the paintings move away from prevailing tropes of war, poverty and disease as they often relate to the continent.
At once mimicking and interpreting the rich fabric of Accra's cityscape, Nortey's paintings depict sweeping urban scenes of expansive buildings and interior scenes. Fascinated by the spatial structures, Nortey indulges viewers into experiencing physical space on a flat surface—rendering exterior and interior architecture as a pivotal structural element to his work. Adopting an architectural lens, he investigates the peculiar language of composition through lines. With a complex interplay of linear contrast and harmony, and with parallel lines converging in a vanishing point, Nortey builds on perspective as a crucial element in bringing the works to life and emulating the city's bustling urban life.
Cross Hatching Affluence is on view until June 16, 2021.
On Restitution: Germany to Return Some African Art to Nigeria
The German minister of culture has announced plans to return hundreds of art objects to Nigeria. The minister characterized the return as a matter of moral responsibility. Their provenance is the Benin Royal Palace—located in Benin City in southern Nigeria—which was looted and destroyed by the British in 1897. The objects will be returned to the Edo Museum of West African Art, which is currently under construction in Benin City. The museum's design was commissioned to a famous architect in the African art scene, David Adjaye, who served as the lead designer for the Smithsonian National Museum of African American History and Culture in Washington, D.C.
Despite this promise, exactly when the works will be returnedis still unclear, as the museum's construction is far from completion. Adjaye indicated that it could take five years.
Calls for the return of art acquired by Western countries during the colonial period have been recurring points of conversation in many discourses around African art. It is with hope, however, that some, if not all of these works will bereturned to their home countries and made accessible to their citizens.
South Africa's Loyiso Mkize Announces Significant DC Comics Debut
South African storyteller and visual artist Loyiso Mkize has revealed his exciting new debut for DC Comics—creators of the world-famous Wonder Woman, Superman and The Justice League. He has penciled the penultimate chapter for Batman: Urban Legends #4. The episode features fictional characters Luke Fox and The Riddler. Gaining this opportunity is a major win not only for Mkize, but for African comic book artists looking to showcase their work globally.
Written by American creator and actor Camrus Johnson, the episode is described as the ultimate tussle between Grifter, Lucius Fox, HALO, Batman and Red Hood as well as Tim Drake who "has returned to the streets of Gotham City and is seeking a new purpose, but what he finds is a string of young adult kidnappings committed by someone known only as 'The Chaos Monster.'"
DC Comics' Batman: Urban Legends #4 is available for pre-order and will go on sale in the U.S. on June 8.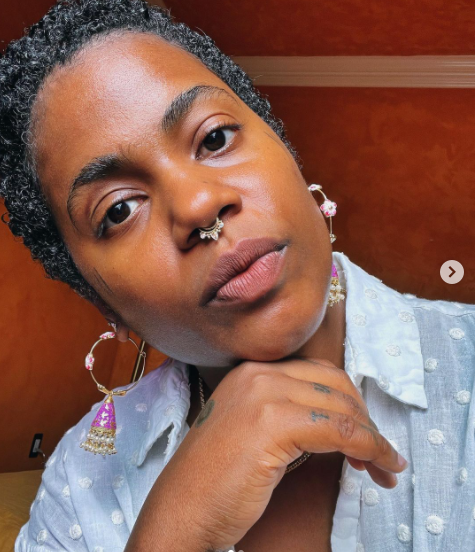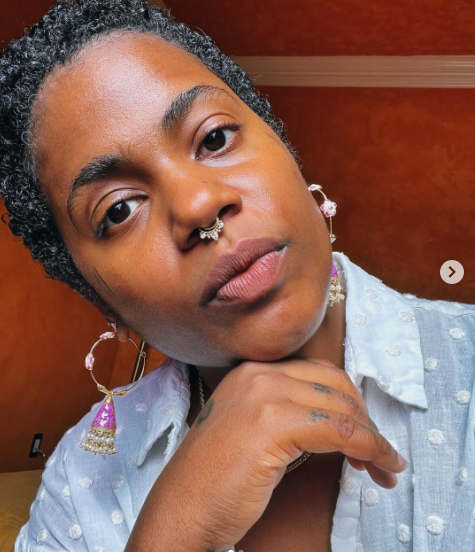 Amazon Studios Gets Film Rights to AkwaekeEmezi's Forthcoming Romance Novel
On a very impressive note, Akwaeke Emezi has gained another career milestone with their forthcoming book, You Made a Fool of Death with Your Beauty. A year ahead of the release, Amazon Studios has secured advance film rights to the novel, about "a young artist struggling to overcome the loss of an old love, while inviting a new one in."
Deadline reported that "the book sold in a bidding battle, in the vicinity of high six against low seven figures, one of the biggest book deals of the year so far and one that was highly competitive. There were eight offers from studios, some with filmmakers attached."
The film adaptation will be handled by Michael B Jordan's new production company, Outlier Society, for Amazon Studios as part of a film and television deal signed by both. Akwaeke will serve as executive producer for the film.
As Deadline reported, Emezi's novel, which takes its title from a lyric in indie rock band Florence + the Machine's song, Hunger, follows "a beautiful Nigerian 29-year-oldaspiring artist in Brooklyn who loses her husband in a tragic accident. While she grieves through her art, her life begins to turn around when she meets a handsome new man at a party. Even as romance takes her to a beautiful estate in the Caribbean, she struggles with the challenge of balancing grief with the desire to move forward with her life."
This is the second screen adaptation of Emezi's work, following their debut novel Freshwater, which is currently in development for series adaptation at FX. It is also the first since they signed up for film and television representation with Verve Agency.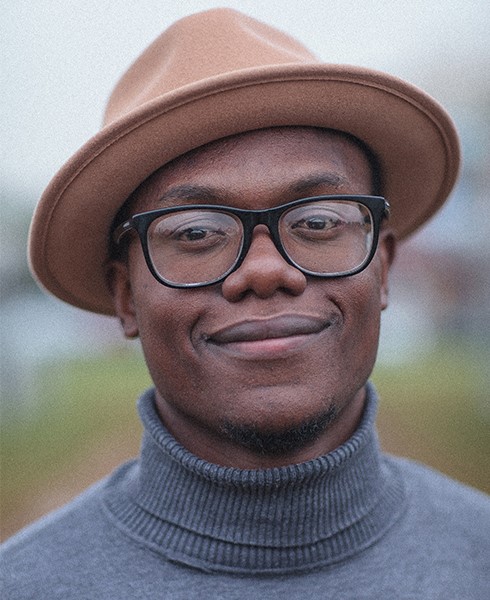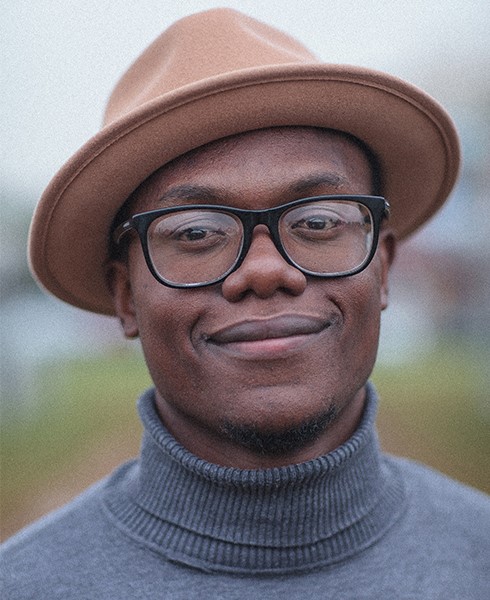 You Made a Fool of Death will be released by Atria Books in 2022.
Namibia's Rémy Ngamije Wins 2021Commonwealth Short Story Prize
Rwandan-born Namibian writer and photographer, Rémy Ngamije is one of the winners of Commonwealth Short Story Prize 2021, announced May 12, 2021.
The Commonwealth Short Story Prize is awarded for the best piece of unpublished short fiction in English in the Africa, Asia, Canada and Europe, the Caribbean, and the Pacific regions. Each of these winners then are eligible for the global prize. Previous winners in the Africa region have been JekwuAnyaegbuna (2012), Julian Jackson (2013), Jennifer Nansubuga Makumbi (2014), Lesley Nneka Arimah (2015), Faraaz Mahomed (2016), Akwaeke Emezi (2017), EfuaTraoré (2018), Mbozi Haimbe (2019), and Chizaram Ilo(2020). Jennifer Nansubuga Makumbi also won the global prize in 2014.
The judging panel for the 2021 edition is chaired by South African novelist and critic Zoë Wicomb. Her fellow judges, drawn from the five regions of the Commonwealth, are Nigerian author A. Igoni Barrett (Africa), Bangladeshi writer and editor Khademul Islam (Asia), British poet and fiction writer Keith Jarrett (Canada and Europe), Jamaican environmental activist and author Diana McCaulay(Caribbean), and essayist and fiction writer Tina Makereti(Pacific).
The 2021 shortlist, selected from a total of 6,423 entries from 50 Commonwealth countries was revealed on April 14, 2021. Ngamije won in the Africa region for his short story Granddaughter of The Octopus.
Africa judge, Nigerian writer A. Igoni Barrett said, "Granddaughter of the Octopus is a psychologically astute portrait of a larger-than-life character whose rollicking essence is distilled into the reader's imagination through concise prose, yes, and poetic detail, yes again. But there's also that extra magic of the writer who wields metaphor like a whip cracking at untamed life. The unforgettable matriarch of this bittersweet tale is audacious, indecorous, and unabashedly sensual, all of which, and much, much more—I must add hilarious—are captured in a voice both raw and tender as a welt. To quote the story's narrator, 'The past always wins.'But the future, in the transfiguring writing of Rémy Ngamije, is winning this time."
Top African Acts Confirmed for Bassline Fest 2021
The organizers of Bassline Fest have announced the artists who will perform at this year's I Am Home virtual concert taking place May 29, 2021 in celebration of Africa month. Renowned artists confirmed to perform at the concert include Sha Sha (Zimbabwe), Tems (Nigeria), Baaba Maal (Senegal), Leila (Morocco), Sampa The Great (Zambia/Australia), Aurus(Reunion Island), Ami Faku (South Africa), Msaki (South Africa), Umlilo (South Africa), Sun-El Musician (South Africa) and Urban Village (South Africa).
"This Bassline Fest I Am Home Africa Day special will provide the same musical performance greatness the Bassline Fest Africa Day concerts are known for while exploring what I Am Home means to artists across Africa," Bassline Fest organizer Brad Holmes said. "These artists will provide exciting performances that show off the diversity of African music."
Because the past year has been one of chaos, confinement and the collective trauma of isolation, the organizers consider the festival an opportunity to reflect and rediscover selves, against the background of home, home countries and art.
Via live performance footage, the artists will get to sharememories, dreams and experiences that lie behind the music and the making of it. The concert will be streamed on the Music In Africa Facebook page.
Compiled by Roli O'tsemaye