Derrick Adams (American, born 1970) delves deeply and fearlessly into the nooks and crannies of Black life and culture, unveiling a nuanced wholeness of humanity. The multidisciplinary, New York-based artist depicts a world where joy, love, leisure, and even prosaic normalcy play central roles, methodically filling the many voids and omissions in popular visual culture. The Hudson River Museum presents Derrick Adams: Buoyant, which is the first museum exhibition of Adams' Floaters series, and will debut We Came to Party and Plan, new related works the artist created during his summer 2019 Rauschenberg Residency.
Executed between 2016 and 2019, the Floaters series is a collection of vividly painted portraits depicting Black people in various states of rest and play, buoyantly floating on calm waters. Relaxed bodies, some with a gentle grin, others holding a summertime beverage, melt into rainbow-colored unicorns or candy-shaped plastic floaties. This classically American iconography signifies the carefree pleasures of success: the American Dream in physical form. Through Adams' hand, and his vantage point, these archetypal images feel simultaneously familiar yet unexpected.
With the Floaters series, Adams recontextualizes this classic visual trope to create a more accurate and fuller representation of the Black lived experience. The immediacy of the imagery in these paintings invites viewers to bring their own notions to the scene and recognize moments that have too often been missing in mainstream American media.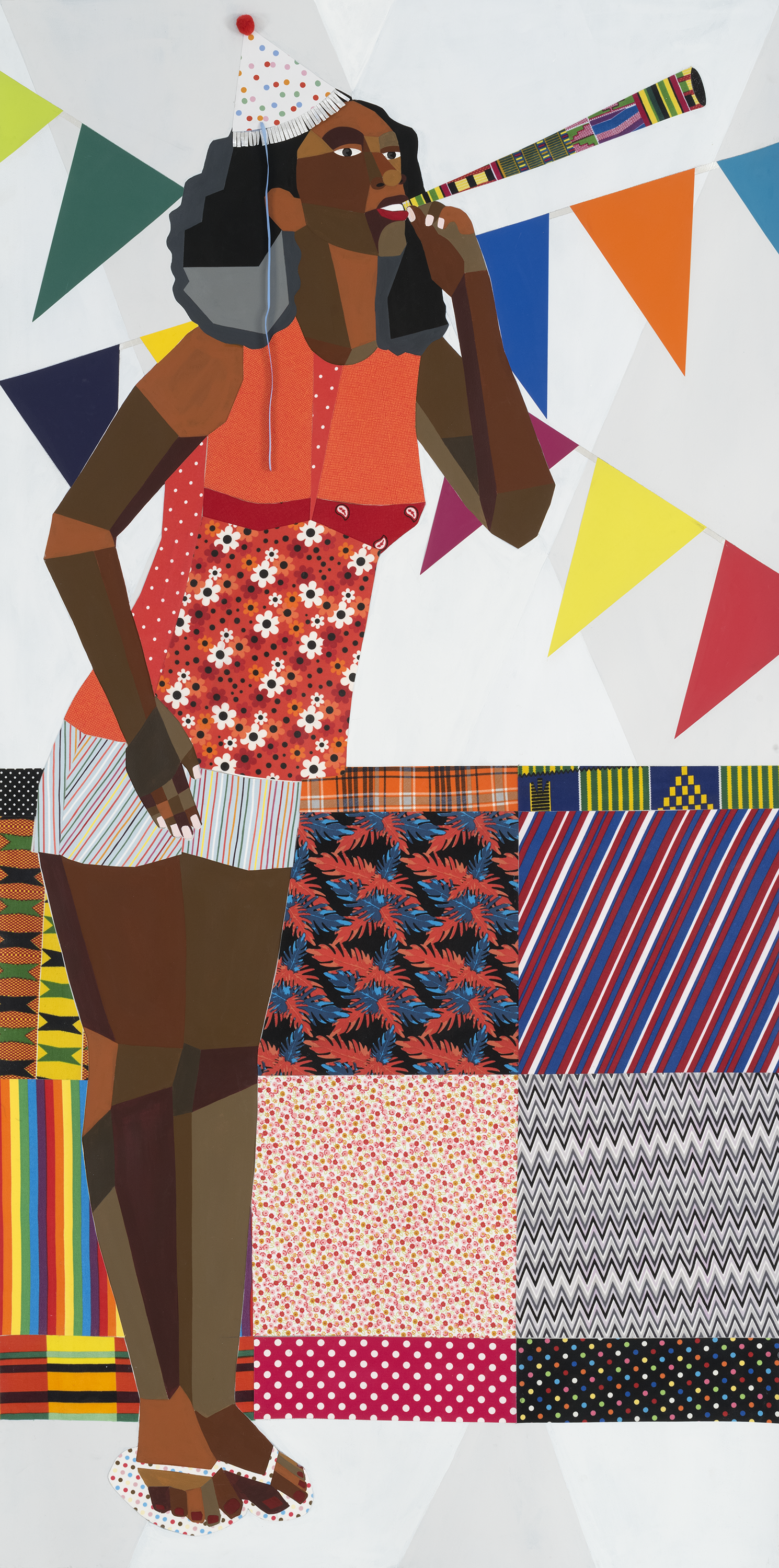 Much like water, the art will flow to unexpected spaces. In addition to works from the Floaters series, the exhibition will feature an immersive, large-scale installation entitled We Came to Party and Plan. This newly created body of work invites viewers into a party atmosphere full of complexity, as well as Tables Turned, an earlier series also related to the celebration. As with his Floaters series, We Came to Party and Planexplores the multi-dimensionality of the Black lived experience. Here, a party is not solely a place for celebration, it is a complex network of human interactions leading to outcomes that range from the mundane to the revolutionary.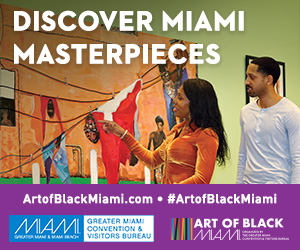 Masha Turchinsky, Director, states, "It is with enormous pride that we present the work of Derrick Adams at the Hudson River Museum. Through his insightful approach, Adams creates archetypal images that are both familiar and forward projecting. The figures may be casually relaxing in a pool or socializing at a party, but these depictions inspired by real life powerfully reshape social structures, challenging the status quo in the art world and in society."
The exhibition is organized by the Hudson River Museum, and co-curated by James E. Bartlett, founder of Open Art, and Laura Vookles, Chair of the Hudson River Museum's Curatorial Department. "Derrick Adams is truly a seminal artist of our time," states James Bartlett. "Drawing equally from historical references, personal history, and the communal lived experience, he has created a decades-long body of work that is both materially and aesthetically diverse yet narratively intertwined. His Floaters series, as well as the newly created We Came to Party and Plan, are consummate examples of his depth and breadth as an artist."
"I want these works to connect with people on an emotional level and tap into their lived experiences," says Derrick Adams. "Sometimes a normal social gathering can represent a radical space. I'm often inspired by the people around me at parties, and how they are making important changes to society. You can go to a social event and still get things accomplished."
Beyond their superficial form, Adams' sun-soaked figures also reveal a tangle of multifaceted human complexity. They evoke nostalgic images of summertime fun, and they may also jar some viewers into reflecting on more traumatic lived or learned histories. From the horrific journey across Atlantic waters of the Middle Passage, to the long history of segregation at America's swimming pools and beaches, Black people's relationship with water has not always been one of carefree joy. While Adams does not specifically focus his artistic lens on this fraught history, he fully recognizes and engages with the memories and historical trauma that can be kindled in many viewers.
In other areas of the Museum, the artist will curate a selection of works from the Hudson River Museum's collection, casting a fresh perspective on historical and twentieth-century works related to the subjects of water and leisure. In the HRM's historic home Glenview, visitors will discover artistic interruptions on bookshelves, mantles, and subtle spaces within the Gilded Age period rooms.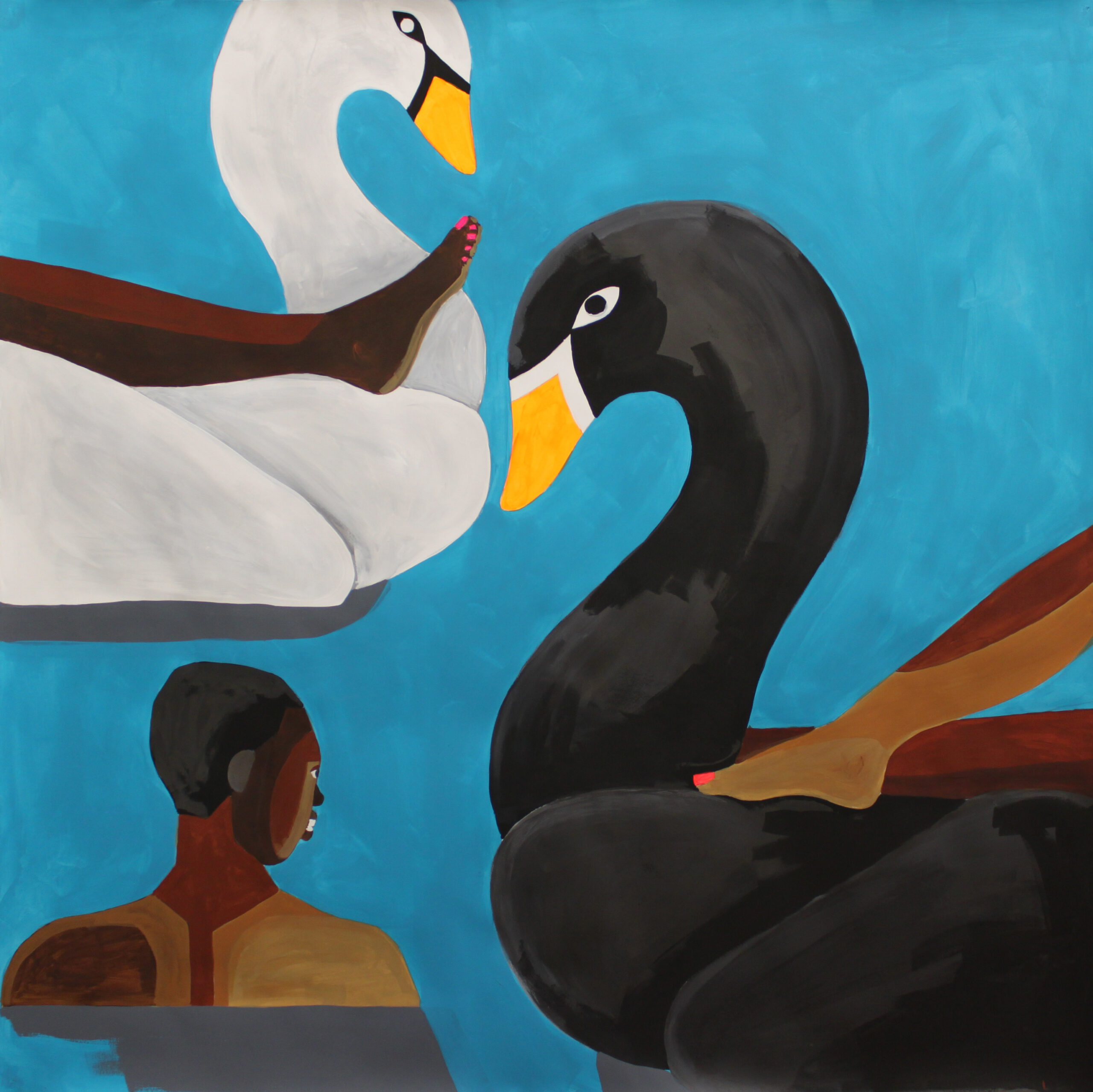 Catalog
The fully illustrated catalog will feature essays by James Bartlett and art critic and writer Antwaun Sargent, an interview between Adams and artist Mickalene Thomas, and a section dedicated to Adams' selection of works from the Museum's collection.
Related Programs
The exhibition will be accompanied by a rich array of interdisciplinary programs, including artist and author talks, public discussions, music, spoken word performances, and studio workshops. A selection of these programs include:
Sunday, March 8, 1:30pm
Curator's Tour of Derrick Adams: Buoyant
Dive into the colorful and complex, familiar yet unexpected, mixed media works in Derrick Adams: Buoyant on a tour with the exhibition's co-curator, James Bartlett.
Saturday, March 14, 1:30pm
Music in the Galleries: Firey String Sistas!
With the works of Self in the City and Derrick Adams: Buoyant providing a backdrop, Firey String Sistas! will push the limits of string ensemble playing and improvisation. Their performance will incorporate aspects of women's culture, original compositions, American songbook standards, and world music, alongside the jazz and blues of the Harlem Renaissance, with songs made famous by Billie Holiday and Bessie Smith.
Sunday, March 15, 2pm
Artist Talk: Derrick Adams: Buoyant
Enjoy a conversation between Derrick Adams and HRM Director, Masha Turchinsky, about the artist's career, his influences, and the ways in which he explores race, history, and popular culture through his art. Following the discussion, join the artist at a book signing.
Sunday, March 22, 2pm
Author Talk: Gretchen Sorin on Sojourns in the American City
Gretchen Sorin, Ph.D., Director and Distinguished Service Professor, Cooperstown Graduate Program, talks about her just-released book, Driving While Black: African American Travel and the Road to Civil Rights, and how the automobile fundamentally changed African American life. Her perspective brings into focus the true history beyond the Best Picture–winning movie, Green Book, showing travel as a political act.
Additional programs will be announced in our calendar.