NSU Art Museum Fort Lauderdale will present I Paint My Reality, a new exhibition examining the manifestation of Surrealism in Latin America. Drawn exclusively from NSU Art Museum Fort Lauderdale's in-depth collection of Latin American art and promised gifts from the Stanley and Pearl Goodman collection, the exhibition features works by Leonora Carrington, Frida Kahlo, Wifredo Lam, Roberto Matta, Carlos Mérida, Wolfgang Paalen, Amelia Peláez, Rufino Tamayo, Joaquín Torres-García, Xul Solar and Remedios Varo, among others. It follows the flowering of the Surrealist movement in Latin America in the 1930s and examines its continued influence through today, including in South Florida, with works by Juan Abreu, José Bedia, Fernando Botero, Pablo Cano, William Cordova, Demi, Luis Gispert, Guillermo Kuitca, Julio Larraz, Ana Mendieta, Maria Martinez-Cañas, and Jorge Pantoja, among others. I Paint My Reality: Surrealism in Latin America will be on view November 17, 2019 through June 30, 2020 and is curated by NSU Art Museum Fort Lauderdale Director and Chief Curator Bonnie Clearwater.
The avant-garde Surrealist movement emerged in France in the wake of World War I and spread globally as artists and art works traveled, and ideas circulated through art journals and mass media. Dreams, psychoanalysis, automatism, and chance were among the methods the Surrealists used to tap into the subconscious and stimulate the imagination. The European Surrealists embraced their Latin American colleagues, who nevertheless expressed ambivalence about the movement. Mexican artist Frida Kahlo famously refuted being labeled as a Surrealist, stating that she never painted dreams, instead asserting, "I painted my own reality," while Uruguayan Joaquin Torres-Garcia advocated for a modern art that was not beholden to the European modern art masters. Latin America's complex history, magical landscapes, indigenous cultures, archeological sites, mythologies, migrations, and European and African religious traditions shaped these artists' reality.
The rise of fascism in Europe in the 1930s as well as the Spanish Civil War and World War II shifted the focus of Surrealism to the United States and Latin America, where many of the European artists sought refuge. These artists' proximity to each other promoted friendships that were especially fruitful during this period and in the post-war years. While many of the exiled European artists who lived in the United States during the war returned home afterwards, those in Latin America and in Mexico in particular, tended to remain there for the rest of their lives.
"The depth and high quality of NSU Art Museum's Latin American collection made it possible for us to organize a comprehensive exhibition of Surrealism in Latin America drawn exclusively from our holdings," notes Clearwater. "Fort Lauderdale collectors Stanley and Pearl Goodman assembled an extensive collection of approximately 100 works with the intention of donating it to the museum where it would be a source for multiple exhibitions exploring this rich period of art history." Clearwater adds, "the museum's substantial collection of contemporary Latin American art and art by South Florida artists makes it possible to follow the influence of Surrealism, magic realism, and art of the fantastic through today"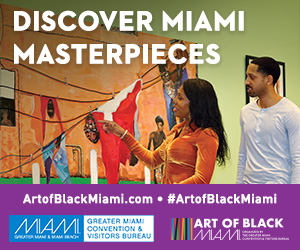 Among the exhibition highlights is Leonora Carrington's masterpiece, Artes 110, 1942, painted the year that the British-born artist arrived in Mexico after fleeing Nazi occupied France where she had been living with her lover, Surrealist Max Ernst. Titled after the address of where she first lived in Mexico City, the painting represents the artist as a spirited young woman flying away from the crumbling old world towards a new land. "Carrington is just one of several women artists in the exhibition who actively contributed to the Surrealist movement in Latin America and whose reputations have soared in recent years." Others include photographer Kati Horner, Frida Kahlo, Amelia Peláez, Alice Rahon, Bridget Bate Tichenor, and Remedios Varo, to name a few.
"At times it is difficult to distinguish reality from dreams in these works," notes Clearwater. "The fiery, nightmarish landscapes by Mexican artist Gunther Gerzo, Austrian exile Wolfgang Paalen, and the Chilean Matta, for example, were based on volcanic eruptions in southwestern Mexico." Another example is a painting by contemporary Argentinian artist Guillermo Kuitca depicting a traumatic childhood experience.
The exhibition also focuses on the catalytic role artists such as Matta played by connecting the European artists with those based in the United States and Latin America. In addition, it explores how Diego Rivera, Frida Kahlo, Wifredo Lam, Ana Mendieta, and Xul Solar, among others, drew on ancient symbols and myths as well as indigenous cultures for their distinct imagery. Clearwater notes that Latin American Surrealism has had a significant impact on contemporary art in South Florida. "Echoes of this movement are evident in the work of South Florida artists, such as Luis Gispert's photograph of a mysterious tower constructed of boom boxes that inexplicably occupies a domestic interior, Pablo Cano's distinctive marionette assemblages, and Jorge Pantoja works that are drawn from Stanley Kubrick's psychological thriller, The Shining."
NSU Art Museum Fort Lauderdale is located at One East Las Olas Blvd., Fort Lauderdale, FL. For information, visit nsuartmuseum.org or call 954-525-5500. Follow the Museum @nsuartmuseum.org