Above: Paul Mpagi Sepuya, Darkroom Mirror Study, or Aperture, 2018, Archival pigment print, 51 x 34 in, Edition of 5
Today Art Basel announced the 269 leading international galleries selected for its 2019 edition in Miami Beach this December. As the premier art fair of the Americas, more than half of the exhibitors have exhibition spaces in North and South America, providing a unique overview of the art scenes within the region. 13 galleries from the Americas are participating in the fair for the first time: Barro Arte Contemporáneo from Buenos Aires; Document, moniquemeloche, and Mariane Ibrahim Gallery from Chicago; M+B and Parker Gallery from Los Angeles; Nicelle Beauchene Gallery, Company Gallery and Karma from New York; Galería Agustina Ferreyra from Mexico City; Central Fine from Miami Beach; Cooper Cole from Toronto; and Catriona Jeffries from Vancouver.

Given the fair's global focus, the list of exhibitors includes galleries from 33 countries and territories spanning five continents, with a particularly strong lineup of galleries and artists from Asia. New entries to the fair from the region include 10 Chancery Lane Gallery from Hong Kong, Magician Space from Beijing, and ROH Projects from Jakarta, while Hanart TZ Gallery from Hong Kong participates for the first time in the Galleries sector. In addition, Taka Ishii Gallery from Tokyo and Edouard Malingue Gallery with exhibition spaces in Hong Kong and Shanghai both return to the fair after a hiatus.

The show's comprehensive narrative goes beyond its geographical breadth. Leading experts in Modern and historical works such as Acquavella Galleries, Landau Fine Art and Mary-Anne Martin Fine Art are joined by a new generation of art galleries including Clearing, Galeria Jaqueline Martins, and Société, allowing the show to span over a century of art history. Additionally, Meridians will provide a new platform for galleries and their artists to show work that pushes the boundaries of the traditional art fair layout. Curated by Magalí Arriola, Director of Museo Tamayo, the sector will be staged in the new Grand Ballroom of the MBCC, a column-less exhibition space of almost 6,000 square meters (60,000 square feet) that is directly connected to the exhibition halls.
Galleries
The main sector of the show features 203 of the world's leading galleries presenting the highest quality of painting, sculpture, drawings, installation, photography, video, and digital works. As debuted at its Basel fair this past June, Art Basel is also applying a sliding-scale pricing model in Miami Beach this December and welcomes 14 influential galleries to the main sector for the first time: Peter Blum Gallery, Ceysson & Bénétière, Clearing, Hanart TZ Gallery, High Art, hunt kastner, Gaga, Catriona Jeffries, Karma, Maisterravalbuena, Galeria Jaqueline Martins, Revolver Galería, Tyler Rollins Fine Art, Société. In addition, five galleries – Luciana Brito Galeria, Taka Ishii Gallery, Galeria Leme, Roberts Project and Galleria Christian Stein – are returning to Galleries after a hiatus. For the full gallery list for Galleries, please visit artbasel.com/miami-beach/galleries.
Positions
Allowing curators, critics, collectors, and visitors to discover new talents from across the globe, galleries in Positions present one major project by a single emerging artist. This year, the sector features 14 solo booths, including six exhibitors who are participating in the show for the first time. Sector highlights include: 'Watch Before You Fall' by Manal AlDowayan at Sabrina Amrani, Colter Jacobsen's 'Begin Being' at Callicoon Fine Arts; Cooper Cole presenting sculptural work by Canadian artist Tau Lewis, and photographs by Paul Mpagi Sepuya at Document. For the full gallery list for Positions, please visit artbasel.com/miami-beach/positions. Nova
Providing a platform for galleries to present new work by up to three artists, Nova this year features 25 exhibitors. Highlights include: a series of new painting by Miami-based Haitian artist Tomm El-Saieh at Central Fine, work by Mira Dancy and Jesse Darling at Chapter NY, an immersive installation by Raúl de Nieves and Cajsa von Zeipel at Company Gallery, a new series of paintings by Didier William at James Fuentes, a solo presentation by Paris-based multidisciplinary artist Neïl Beloufa at Ghebaly Gallery, Mariane Ibrahim Gallery's showcase of new and recent works by Amoako Boafo, and the debut of a new body of work by conceptual photographer Todd Gray at David Lewis. For the full gallery list for Nova, please visit artbasel.com/miami-beach/nova.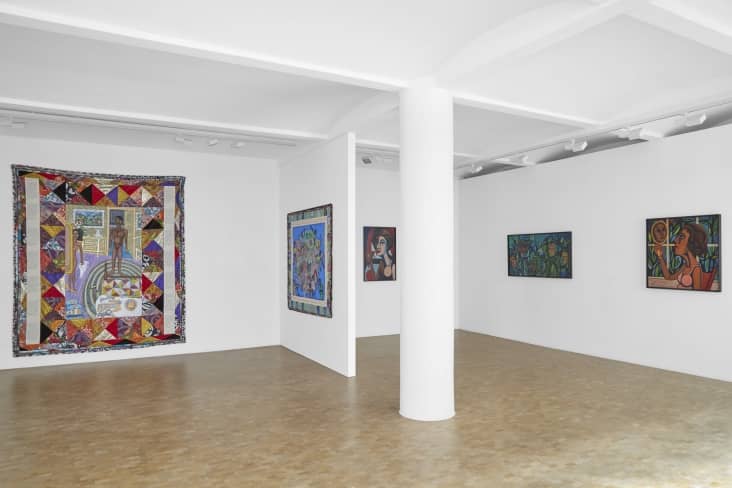 Survey
Featuring 16 focused presentations of work created before 2000, Survey introduces six new galleries to the Miami Beach edition, among them: 10 Chancery Lane Gallery from Hong Kong; acb from Budapest; Nicelle Beauchene Gallery from New York; and Galerie Mitterrand from Paris. Further highlights include Miriam Schapiro at Eric Firestone Gallery; Parker Gallery's group exhibition of surreal ceramic sculptures by Bay Area artists, Jess (Collins) at Tibor de Nagy, Faith Ringgold at Pippy Houldsworth Gallery, and Joseph Yoakum at Venus Over Manhattan. For the full gallery list for Survey, please visit artbasel.com/miami-beach/survey.
Edition
The sector presents 11 global leaders in the field of prints and editioned works: Cristea Roberts Gallery, Crown Point Press, Gemini G.E.L., Carolina Nitsch, Pace Prints, Paragon, Polígrafa Obra Gràfica, Susan Sheehan Gallery, STPI, Two Palms, and ULAE. For further information, please visit artbasel.com/miami-beach/edition. Meridians
Curated by Magalí Arriola, Director of Museo Tamayo, the new sector will feature around 30 ambitious presentations pushing the boundaries of a traditional art fair layout. Meridians will be staged in the MBCC's new Grand Ballroom, directly connected to the exhibition halls. More details will be released in October.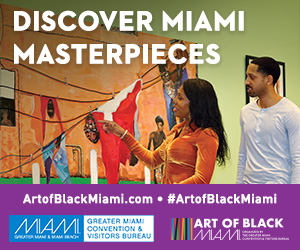 Further details on the project-based Kabinett sector, as well as the Conversations program, will be available in the coming months.

Museums Shows and Private Collections
Visitors to the Miami Beach show will have the opportunity to view South Florida's leading museums and private collections, including the new Rubell Museum, a 100,000-square-foot campus that will present exhibitions drawn from an unparalleled collection built over 54 years, and Espacio 23, a contemporary art space founded by collector and philanthropist Jorge M. Pérez, serving artists, curators, and the general public, with regular exhibitions, residencies and a variety of special projects drawn from the Pérez Collection. Both spaces will open in Miami's Allapattah neighborhood.
The Bass
'Haegue Yang: In the Cone of Uncertainty'
'Lara Favaretto: Blind Spot'
'Mickalene Thomas: Better Nights'
de la Cruz Collection Contemporary Art Space
'From Day to Day'
Espacio 23 / Jorge Pérez Collection
'Time for Change: Art and Social Unrest in the Jorge M. Pérez Collection'
Frost Art Museum – Florida International University
'Art after Stonewall, 1969-1989'
The Institute of Contemporary Art, Miami (ICA Miami)
'Sterling Ruby'
'Dan Flavin'
'Carlos Sandoval de Leon'
'Wong Ping'
'Agustin Fernandez'
NSU Art Museum Fort Lauderdale
'Happy'
'I Paint My Reality: Surrealism in Latin America'
Museum of Contemporary Art North Miami (MOCA)
'Cecilia Vicuña: About to Happen'
'Alice Rahon: Poetic Invocations'
Pérez Art Museum Miami (PAMM)
'The Gift of Art'
'José Carlos Martinat: American Echo Chamber'
'Bárbara Wagner & Benjamin de Burca: Estás vendo coisas'
'Zhao Gang: History Painting'
'The Other Side of Now: Foresight in Contemporary Caribbean Art'
'What Carried Us Over: Gifts from Gordon W. Bailey'
'Teresita Fernández: Elemental'
'George Segal: Abraham's Farewall to Ishmael'
Wolfsonian – Florida International University
'A Universe of Things: Micky Wolfson Collects'
'Deco: Luxury to Mass Market'
'Cuban Caricature and Culture: The Art of Massaguer'
'Caricaturas'
Margulies Collection at the Warehouse
'Can It Really be 20 Years Already? Art in Our Times, Contemporary Masters, and Philanthropy'
Rubell Museum
'Unveiling the new Rubell Museum in Miami'
Art Basel Cities
Art Basel Cities: Buenos Aires will bring a display of works by Argentine artists to Miami Beach's Collins Park, curated by Diana Wechsler and Florencia Battit. Further information will be available in the fall.Design Miami
Taking place concurrent to the Art Basel fairs in Miami Beach and Basel, Design Miami has become the premier venue for collecting, exhibiting, discussing, and creating collectible design. In its 15th edition this year, Design Miami will take place from December 4 to December 8, adjacent to the MBCC (at Meridian Avenue and 19th Street). For more information, please visit designmiami.com.