Above: "MORNING THE BROKEN WEEL" 1986″ on the reverse
watercolor and collage on board
11 x 14 in. (27.9 x 35.6 cm.)
American African American, the latest selling exhibition from Phillips New York auction house presents an extensive collection of over 60 postwar and contemporary works from well-known and emerging African American artists. Phillips Senior Advisor, Director Emeritus of the Brooklyn Museum, and curator Arnold Lehman believes now is the perfect time to bring more attention to African American artists. "There has been a great history of African American art, certainly starting post World War II" Lehman noted during a brief phone interview. "It's great momentum in 2018, but it started 70 years ago in 1950, and it's been working steadily towards this moment… We could have gone back even further."
While the popularity of African American artists continues to trend, actual sales of African American artwork remain modest. Data released by Artnet revealed that in 2018 African American artworks furnished just $460.8 million (0.26 percent) in global auction market earnings. The record-breaking Sotheby's sale of Jean-Michel Basquiat's Untitled (1982), to billionaire Japanese collector Yusako Maezawa for $110.5 million made up 24% of total African American auction earnings for 2018. The purchase of Kerry James Marshalls work Past Times (1997) by Sean "P.Diddy" Combs for $21.1 million also held significant weight in increasing the valuation of African American postwar and contemporary artworks. After Basquiat and Marshall, the sale of works by Mark Bradford, Glenn Ligon, Julie Mehretu, David Hammons, Njideka Akunyili Crosby, and Sam Gilliam continue to have a monumental impact on the African American art market. Though the artists mentioned above are more than worthy of immense admiration, one must ask the question, why are so few African American artists sold at blue-chip auctions?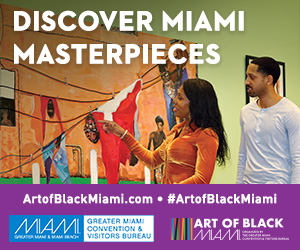 Phillips has established itself as one of the top auction houses in the world and their selling exhibition, American African American is one a handful of recent collections that appropriately evaluate African American artworks as competitively as works made by their white contemporaries. Lehman considers each artist an "extraordinary artists of the mid-20th and early 21st centuries," and contends that "American African American [is] likely the largest selling exhibition of African American artists to date."
Lehman's curatorial approach positions defining works by veteran artists in conversation with nuanced proclamations from newer voices in contemporary art. The extensive effort extends throughout the first and second floors of the Phillips New York Museum. Visitors will be arrested by Kehinde Wiley's masterful work Passing/Posing, Jean de Carodelet,(2004) when they enter the museum and inspired by a cadre of abstractions from Tyree Guyton, Stanley Whitney, Gerald Williams, Sam Middleton, Hale Woodruff and Sam Gilliam that are strategically placed around the first floor. Surrounding works include Glenn Ligon's compelling Untitled (I am an Invisible Man…) (1991) oil stick on paperwork and Noah Purifoy's Untitled, (1992) assemblage. Domestic Life (2007) a mixed media assemblage from Betye Saar is installed among striking works from Mickalene Thomas Diamond in the Rough (2005), Thorton Dial Looking for the Right Spot (2004) and Cut ( 2008) a beautiful conte crayon and wallpaper on woodwork by Whitfield Lovell. Jean-Michel Basquiat's Loin, (1982) is installed between photographer Lyle Ashton Harris' Ecstasy #1 (1987-1988), Morning: The Broken Wheel (1986), a rare collage and watercolor on board from Romare Bearden, and Untitled (the 1990s) an expressive work from Purvis Young. Richard Hunt's bold aluminum sculpture Tubing Form (1966) and John Outterbridge's small mixed media characterization Untitled, Ethnic Heritage Series (1972) offer a compelling introduction to a grand history of culturally intoned sculptors.
While some of the artworks in the exhibitions subtly signify, a nod to and celebrate assumed African-American-Black tropes, others rail against racialized expectations about African-American-Black artistic expression. Perhaps the greatest accomplishment of the exhibition; it presents a diverse selection of artworks from an admittedly limited cohort of astonishing American artists. "I tried to show the arc of African American art as it moved from the 1950s through the 60s and then into the new century" Lehman notes, "I would love to have had, 100 artists in this exhibition… if I had twice the amount of space, I would probably have twice the number of artists, but I feel good about every selection."
The second floor of the show is densely populated, much more than the first. At times I felt overwhelmed by the sheer number of creative savants in one space; Deborah Willis, Fred Wilson, Derrick Adams, Deana Lawson, Kara Walker, Pope L, Adam Pendleton, Rashad Newsome, Hank Willis Thomas, Rashid Johnson, Xaviera Simmons, Pope.L, Theaster Gates, Sanford Biggers, and Ayana V. Jackson among others. Each work speaks volumes about the contemporary moment. The exhibition could be seen as a place filled with ideas about the racial discrimination of Afro-American people. Exhibitors often use custom trade show display and exhibits to showcase their works and opinions, which could be seen there also. Each contribution further queries the art world to admit and correct the blatantly racialized history of the collection. It is difficult to view an exhibition with the scope of American African Americans and not feel compelled by the shifts that have taken decades to form.
Some of the more memorable and massive mixed media works are from seasoned makers; Trenton Doyle Hancock's witty visual pun Hot Coals in Soul (2010), Pope.L's psychedelic Gold People Shit in their Vale (2014), Adam Pendleton's contemplative black and white series WHAT IS THE…(2018), and Xaviera Simmons typographic meditation Found the Sea Like the River (2018). There are several compelling installations; Sanford Biggers unsettling video and bronze sculpture BAM (Seated Warrior Queen) in which a statue is shot and the shooting recorded as the sculpture falls from its platform. Shinique Smith's colorful cloth, fabric, and ribbon wrapped mound, Bale Variant #0021 (2011) troubles histories of labor and imprisonment. Awol Erizku's towering homage Oh, what a feeling, fuck it, I want a Billion (2018) stands as an epic conceptual work about Black masculinity and the impossibilities of exceptionalism.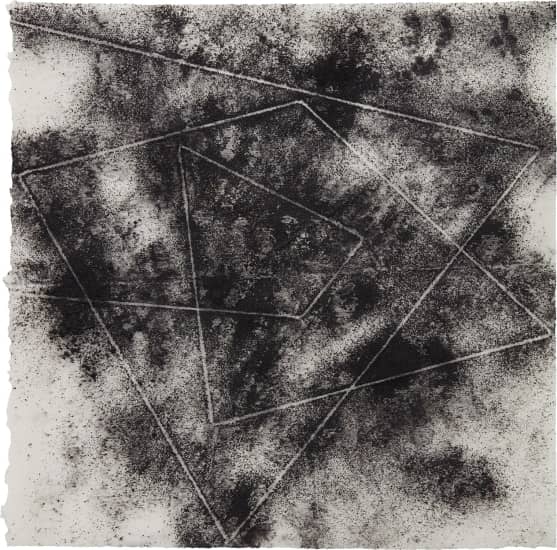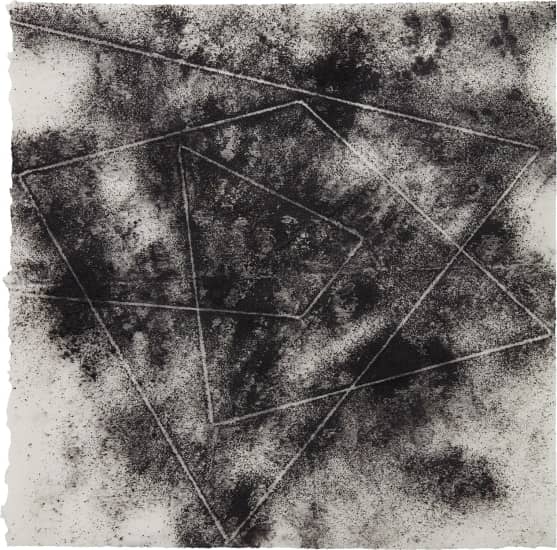 I was surprised to find some beautiful selections from your favorite artist, Jack Whitten. Target (In & Out) #7 (2011), a magnetite and acrylic work on rice paper offers a delicate counterbalance to the hulking Odyssey sculptures. Clean gestural geometric forms emerge from dusty smudges on fragile white paper. The work reminds you of Whitten's masterful draftsmanship, his attention to detail, and imaginative engagement with the material.
Visitors will also encounter artistry from a new school of creatives. Emerging artists Vaughn Spann, Ateronnce Gumby, Letitia Huckaby, Jacolby Satterwhite, Cameron Welch, Mequitta Ahuja, Paul Anthony Smith, Tomashi Jackson, Paul Sepuya, Marcus Brutus, and Florine Demosthene, among others, stand on the shoulders of their artistic predecessors but elicit distinguished expressions. Mequitta Ahuja's oil on canvas portrait, The Making Of, (2018) is an exceptional addition. The painting continues a powerful legacy of Black Portraiture. By centering representations of herself staring directly at the viewer, Ahuja troubles the gaze and asserts herself and Black women's figurations with an agency uncommon in Western portraiture.
American African American is an encouraging exhibition that eloquently articulates a snapshot from a deeper well of extraordinary African American artistry – continuing the call for a revisioning of contemporary art canons, a standard set by preeminent exhibitions like Black Male: Representations of Masculinity in Contemporary American Art, and Black Radical Women, 1965-85. American African American rightfully recognizes, celebrates, and encourages a comprehensive collection of African American postwar and contemporary works.
Go here for more details to purchase.