Prizm Art Fair is pleased to announce the dates and new location for the fair's 6th edition. Coinciding with Miami Art Week, Prizm Art Fair, hosted in partnership with the Knight Foundation, the Alfred I. DuPont Building, Miami Downtown Development Authority, and the Green Family Foundation, will take place December 3rd through December 9th, 2018 at the Alfred I. DuPont Building, 169 East Flagler Street in the Downtown Miami.
Organized into three exhibitions curated by Jeffreen M. Hayes, Mikhaile Solomon, and William Cordova, and introducing its inaugural exhibition of presentations by select national and international galleries from Miami to Lagos, Prizm 2018 will present a global program examining the articulation of narratives in Africa and the African Diaspora through varying degrees of currency; the most overt being economic currency, but also, cultural, social, political, and even spiritual currencies.
Jeffreen M. Hayes will present The Diaspora's Currency: Black Women, as a call-and- response: a collaboration to build and define the value of Black women's voices, experiences and knowledge as currency. Transceivers: channels, outlets and forces presented by cultural practitioner William Cordova will focus on the intersections between futurism, ritual and the folkloric. Three intersecting themes that are fluid and constantly transmitting, receiving, informing and forming our contemporary space. Presented by Mikhaile Solomon, The Dark Horse, in reference to the idiom describing an unexpected successful entrant, who was previously unknown, but emerges into prominence, explores and exhibits ways in which the disenfranchised negotiate, re- appropriate and reclaim the currencies used against them to build a future that is inclusive of prosperity for all.
Prizm's extant special sections, Prizm Preview, Prizm Panels, Prizm Film, and Prizm Perform, will boast an international experience in partnership with The Africa Center, Barbados Tourism & Marketing, and Cockspur Rum, thought provoking conversations with industry leaders including Dr. David C. Driskell and Curlee Holton, and performance works that defy and expand our conventional understanding of visual arts practice.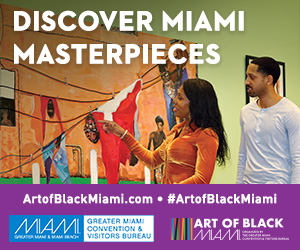 Exhibiting Galleries:
Alaina Simone Inc, Art Tafeta, Emerson Dorsch, Morton Fine Art, Nnamdi Gallery, September Gray, Terra Kulture
Artists: Regina Agu, Elia Alba, Olu Amoda, Nicole Awai, Mildred, Beltré Martinez, Alicia Brown, Nyame Brown, Christopher Carter, Ify Chiejina, Taha Clayton, Yanira Collado, Adriana Farmiga, Alfred Conteh, Damon Davis, Morel Doucet, D.Denenge Duyst-Akpem, Shaunte Gates, Monique Gilpin, LaMont Hamilton, LaToya Hobbs, Wayne Hodge, Ekene Ijioma, Deborah Jack, Justin D. Johnson, N. Masani Landfair, Kelley-Ann Lindo, Daniel Lind-Ramos, Tahir Karmali, Jodie Lyn-Kee-Chow, Betelhem Makonnen, T. Elliott Mansa, Jared McGriff, Helina Metafari, Kishan Munroe, Marilyn Nance, Shervone Neckles, Terrence Nicholson, Khaulah Nuruddin, Nnenna Okore, Niyi Olagunju, Charo Oquet, Alexis Peskine, Wanda Raimundi-Ortiz, Cheryl R. Riley, Marton Robinson, Phillip Robinson, Michael Roman, Tammie Rubin, Onajide Shabaka, Tariku Shiferaw, Dread Scott, Nyugen Smith, Stanley Squirewell, Felandus Thames, Juana Valdes, Jina Valentine, Ronald Williams, Deborah Willis, Folayemi Wilson, Sephora Woldu, Ezra Wube,
SNAPSHOT OF PROGRAMMING FOR 2018:
Venue: 169 East Flagler St, Miami, FL 33131
$200 VIP/ Catalog, Tours, Access to all events Tickets: $15 One Day, $50 Multi-Day, $5 Students
Press Preview|Monday December 3rd, 2018, 12:00 PM – 4:00 PM
Prizm Invites members of the Press for a first view of Prizm Art Fair 2018.
Prizm Preview VIP Dinner | Monday December 3rd, 2018, 6:00 PM – 9:00PM
In partnership with the Africa Center and Barbados Tourism Prizm welcomes guests for an experiential dinner event with Keynote Speaker Uzodinma Iweala, CEO of the Africa Center and Author of the award- winning novel, Beasts of No Nation.
Prizm Panels|Wednesday December 5th, 2018 4:00PM – 5:30PM (reception to
follow)
The David C. Driskell Center at the University Maryland, College Park presents "The Living Legacy National Speaking Tour" event with Professors David C. Driskell and Curlee R. Holton. This event will highlight Professor Driskell's legacy as an artist, scholar, and cultural historian and his contributions as well as the contributions of other African American artists to the American art canon. Professor Curlee R. Holton is an artist, master printer, and the Executive Director of the David C. Driskell Center.
Prizm Film|Thursday December 6th, 2:00PM – 5:00PM | Q&A 4:00PM-5:00PM
Life is Fare (Sephora Woldu) | 2:00PM
Life is Fare is a Tigrinya/English feature film exploring three wildly different perspectives on the East African nation of Eritrea. The film's premise follows Sephora, an idealistic young Eritrean American pitching a well-meaning but ludicrous film idea to her traditional mother about a man (Haile) who fled their home country and ended up in San Francisco.
The Good Stock on the Dimension Floor (Sienna Shields) & HOWDOYOUSAYYAMINAFRICAN? | December 5th at 3:00PM Presented by Sugarcane Magazine.
Prizm Panels | Friday December 7th, 12:00PM – 5:00PM
Prizm hosts Prizm panels; a series of conversations & film screenings presented by thought leaders and practitioners in
contemporary African and African diaspora art. See website for list of Panels.
Prizm Perform |Thursday December 7th, 5:00PM – 8:00PM
Challenging conventional modes of artmaking, performance art has long been a medium within which artists can utilize a different format to explore, challenge, and dissect a range of ideas and frameworks.
Prizm 6 | Saturday December 8th, 9:00PM
Enjoy an evening with Prizm to decompress after Miami Art Week with our Special Musical Guest to Be Announced
Stay in touch with Prizm here.