Above: Sheena Rose from her Black Obeah Series.
During the August 2018, session at the Fountainhead Residency, in Miami, Florida, Sheena Rose and Onajide Shabaka spent a morning in conversation. Ms. Rose's residency was made possible by a collaboration between Fountainhead Residency and Diaspora Vibe Cultural Arts Incubator. Ms. Rose engages in conversation about her art practice and her time spent in Miami, Florida.
Sheena has exhibited locally and internationally in the Caribbean, South America, North America, Canada, Europe, Africa, and Asia. Ms. Rose has been awarded a number of international artist's residencies such as Alice Yard (Trinidad), Greatmore Art Studio (Cape Town, South Africa), Tembe Art Studio (Moengo, Suriname), and most recently through a collaboration between Diaspora Vibe Cultural Arts Incubator (DVCAI) and Fountainhead Residency in Miami. Our conversation took place at the Fountainhead Residency space in northeast Miami.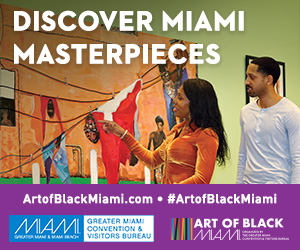 Onajide Shabaka: "Tell me about your art practice and how it relates to your Miami residency."
Sheena Rose: "Right. So I'm from Barbados, and my art practice is multimedia. I work with painting, drawing, hand-drawn animation, and performance art. My work is about the pop culture and looking at the stereotype from Barbados and the Caribbean. Quite recently I've been looking at myself as a black woman and how does the black body look in the space. In different spaces. Quite recently I've been asking myself a lot about the stereotype and the position of a black woman from the Caribbean. That's it."
"The relationship to the residency here… so, I was invited by Rosie Gordon Wallace of DVCAI (Diaspora Vibe Cultural Arts Incubator) and Fountainhead Residency to take part in this residency. I also did an artist talk at the Betsy Hotel (Miami Beach) and a part of the residency at the Betsy Hotel. I would say more so an experience being at the Betsy for about five days and then a talk at the Betsy library, then I came over to the Fountainhead, which is a collaboration with DVCAI."
"What I was doing here was I was invited and informed about the information and the history of Miami, and the social structure and the political structure, and also just to see how the space influenced or informed my work. So while I was here, again looking at myself in this space trying to understand that Miami is so diverse, especially with lots of Caribbean people, Haiti, Dominican Republic, Cuba, and maybe a little bit of Jamaica, a bit of… a lot of the Caribbean. So, I was just looking at how does my work respond to that. But also, how does it feel to be away from Barbados. So, my work will just more so respond to space while looking at myself in the space."
Shabaka: "What do you mean by the term 'space' in this context?"
"Being in Miami just being in my bedroom, not my original bedroom, but being in Miami and how do I react in a domestic home in Miami as well. So, from Barbados, I'm responding to that.."
"Because Miami is still part of America… America still has its American culture, and Barbados is so, different. It's not diverse; It just has a Barbadian culture. Barbadian culture is the history, meaning we were only settled by the English. We don't have a mixture of Latino's. We don't have any Asians or Indians per se. We only have a small number of other people of color. The majority are black, and the minorities are white. So, they used to call Barbados, and still do, Little England because we are so English."
"So, being in Miami so full of Spanish is so different, if just on language alone… And the architecture is different. So, just being in America… America itself is so divided. 
Shabaka: "Within the context of this conversation how is history addressed in your practice?"
"Just being yourself is history, meaning that being myself as a Barbadian sister looking back at slavery, and looking back at the social, racial structure of it. So for me, myself being here is a political statement already."
"I'm still at a phase in my work where I'm still trying to understand myself and still trying to understand myself in spaces I encounter. And, yeah, I'm in a weird, confused state where it's like I kinda know where I want to go with the work but the work is becoming a little bit more complex in terms of how I'm thinking and how I'm trying to translate it on to the work."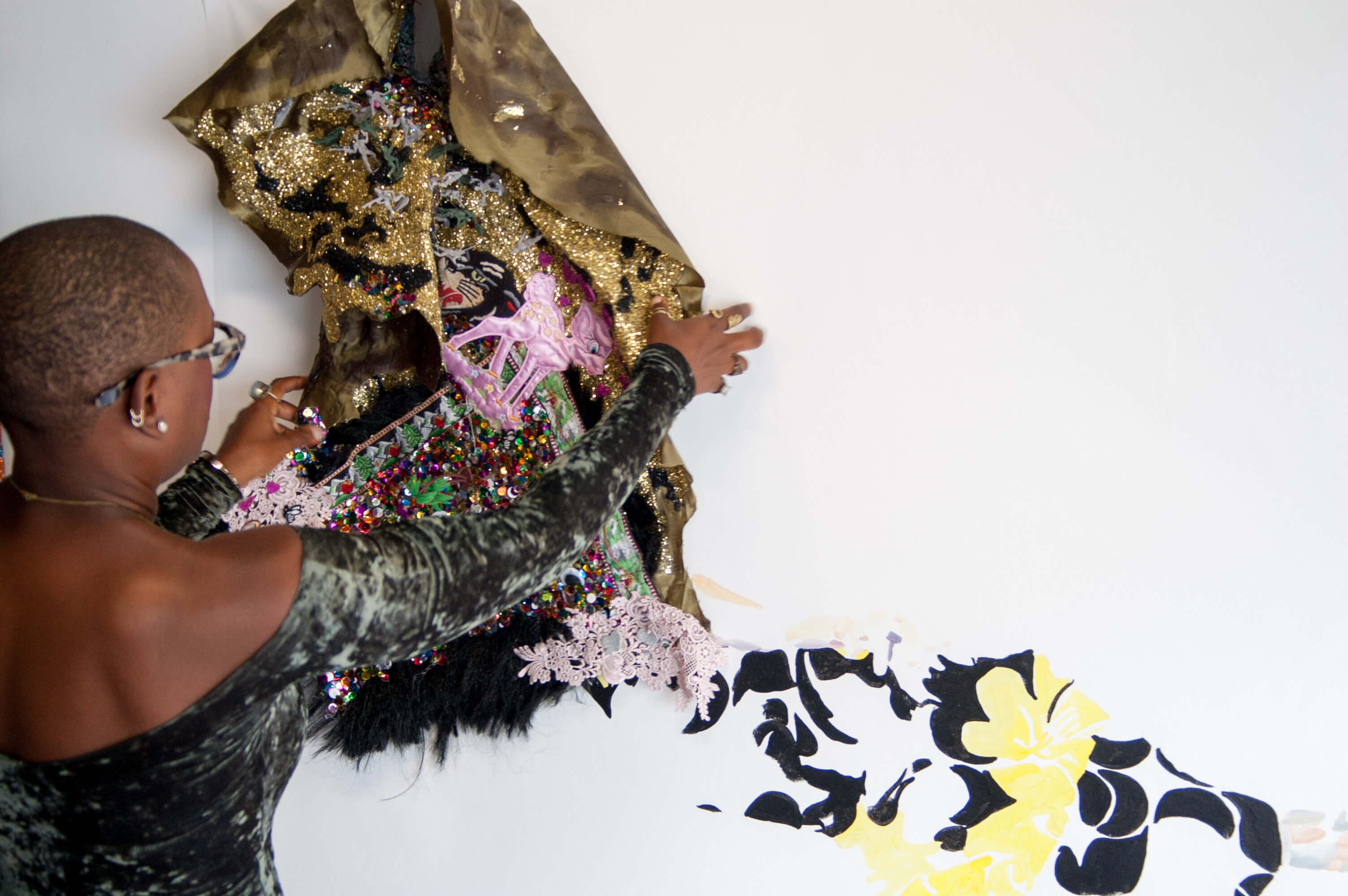 Above: "Island" the sculpture and the painting behind "Classical Pose" by Sheena Rose.
"You're looking at paintings. When I first started these paintings, I believe I was at UNCG, the University of North Carolina at Greensboro. That's when I received my Fulbright in 2014. I did my master's in studio art. I call it [the painting] invisible because it felt so quiet compared to my earlier work, which was the Sweet Gossip and A Bit of the Tongue drawings which I was working on before which was looking at the Barbadian pop culture
which I thought was gossip. Which I thought was because we use gossip a lot on the media, like TV and radio, and comedies, and better films. So, I use these loud, bold, sweet gossip paintings as I was imaging myself as a Caribbean pop artist. But now, when I went to UNCG, the University of North Carolina at Greensboro, when I was studying, I was reflecting and looking at myself and became quiet. The work became quiet too. The tones; the tonality on the skin… before I did a painting on the skin but now I'm painting on the skin and looking at the black skin, looking at the colors: yellow and orange, blue and purple but, became quiet and observed the space a lot
Speaking on her glitter covered clothing: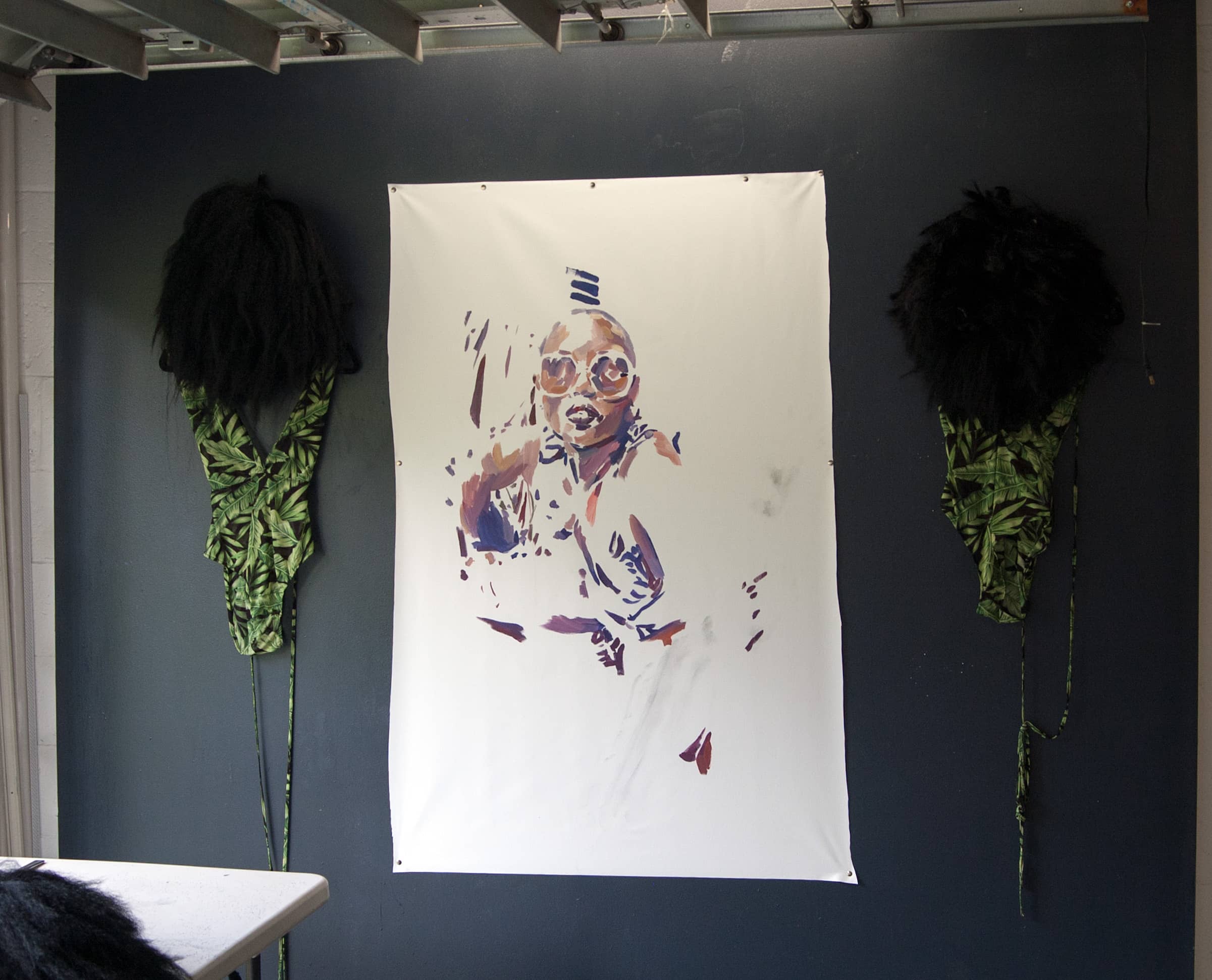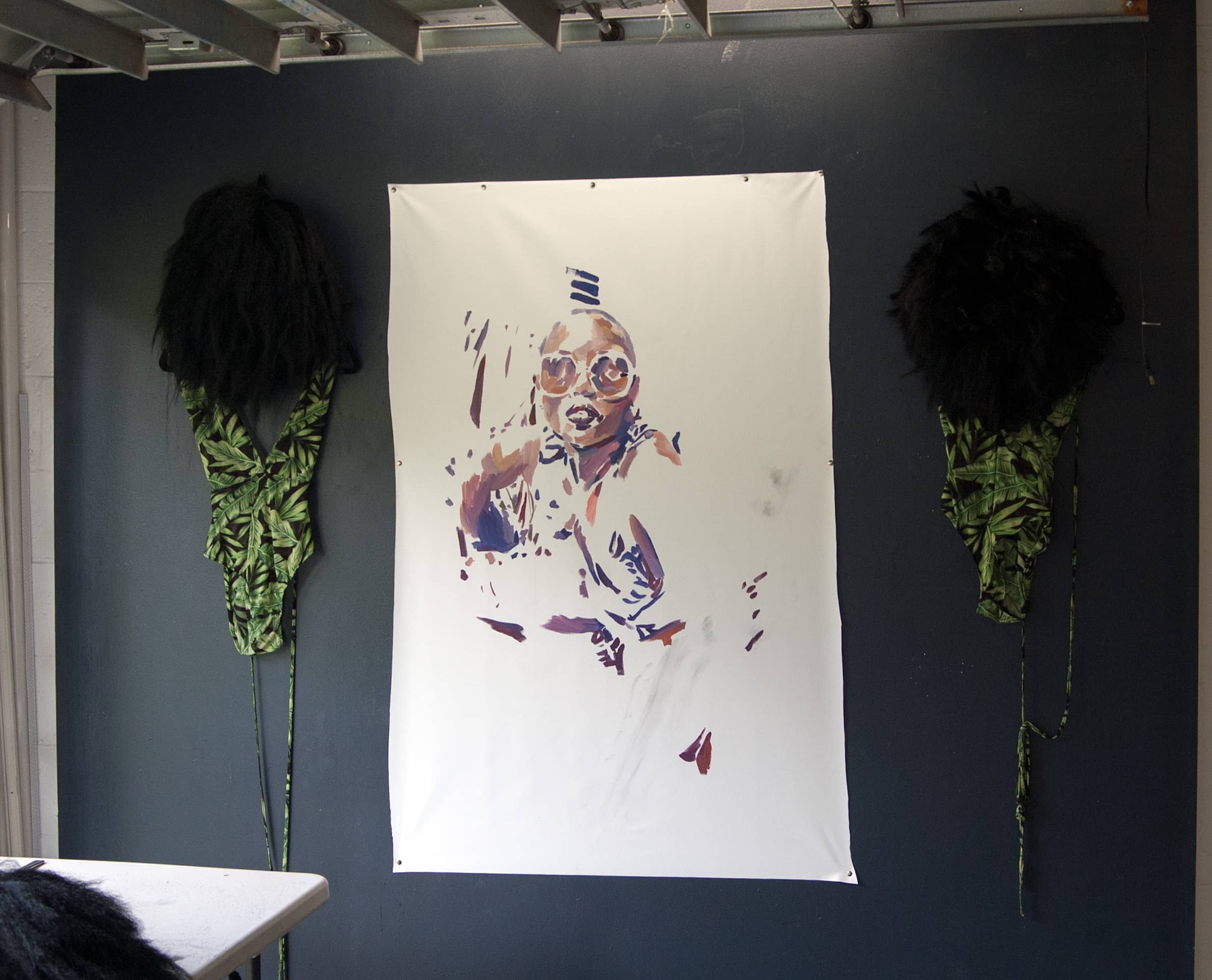 Above: Island Gal/War Gal by Sheena Rose.
"So, this residency I'm somewhat quiet again, observing and looking at the spaces. But then, I was looking at patterns again, and looking at the folds and how the patterns look on an outfit, on a dress, on a shirt and decided to paint it on another painting here just to see how does it look when I fold the fabric and project it on to a dress and on to the figure. So, with this one here with the two swimsuits next to it, so I made this painting, kinda, I was thinking a line of performers like that would be standing next to the painting like if they were soldiers but kinda as they feel at the moment."
"I was inspired by Terry Adkins when I went to the ICA Miami Museum (Institute of Contemporary Art Miami). The good thing about doing residencies is when you get to encounter, or when you get to see spaces that you never been to or you been to before that your space doesn't provide or doesn't have. So, I went to ICA Miami Museum I was truly inspired by Terry Adkins installation I decided to take more risks to my work."
"That's stretched canvas (another example). And, I also did an exhibition that was sculpture installation; it was on the wall, but I put it down. This is what I showed at the (Fountainhead Residency) open house (above). It was a costume I was making for a performance, but it didn't quite work out. So I decided, you know what, I decided what would happen if you put it on the wall? What would happen if it becomes a sculpture? I'm still learning from it. The good thing about doing a residency is that you discover a lot besides being from where you're originally at, you get to discover more about yourself, and you take more risks. So, for me, I'm proud that I took risks. I just wanted to see what happened when I made a costume from scratch. It didn't quite work out, so I put it on the wall. Then, it became, like sculptural. After that, I decided to do another one deliberately this time… I work with painting, drawing, mixed media but I'm not that good with sculpture, but I wanted to take the risk.
"When I went to the Betsy [Hotel on Miami Beach] in the writer's room [for the first five days of the residency], I went to the Erotic Museum (WEAM), and I discovered about Leda and the Swan. I was looking at it, and it was quite beautiful. And this swan is having sex with this woman but when I read the story about I didn't like the story, but I liked the visionary of it. The look of it. So, I was imagining myself examining or being erotic to myself, so I was imaging Leda and the Swan with this piece to some degree. So, I was just playing around with what I encountered during the residency.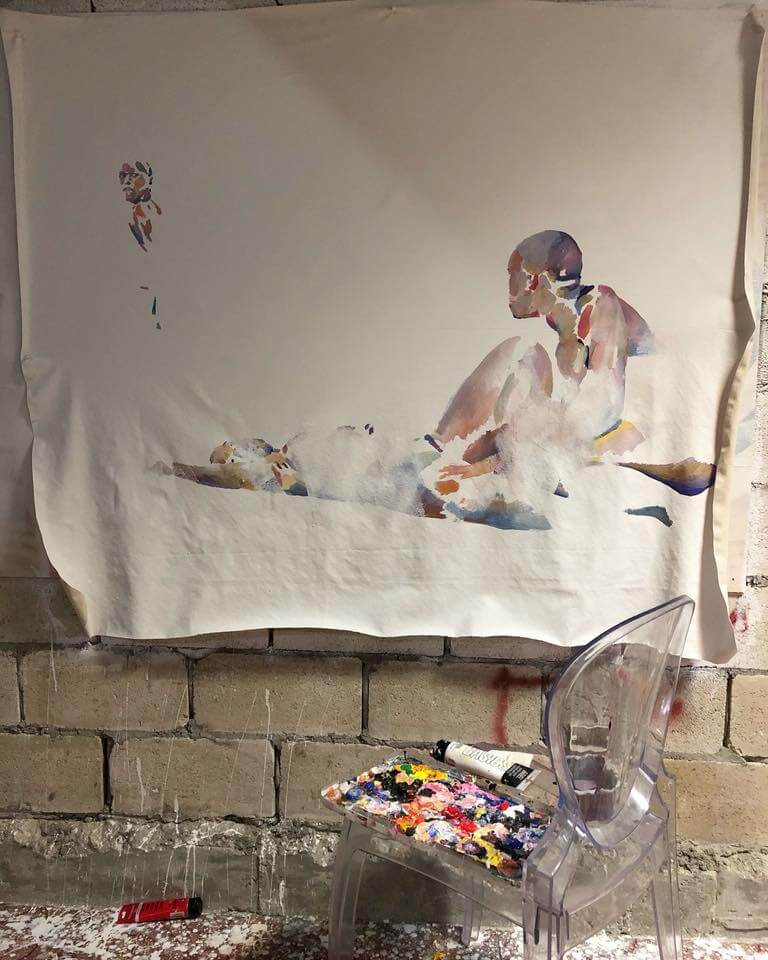 Above: Apparently it's my fault by Sheena Rose.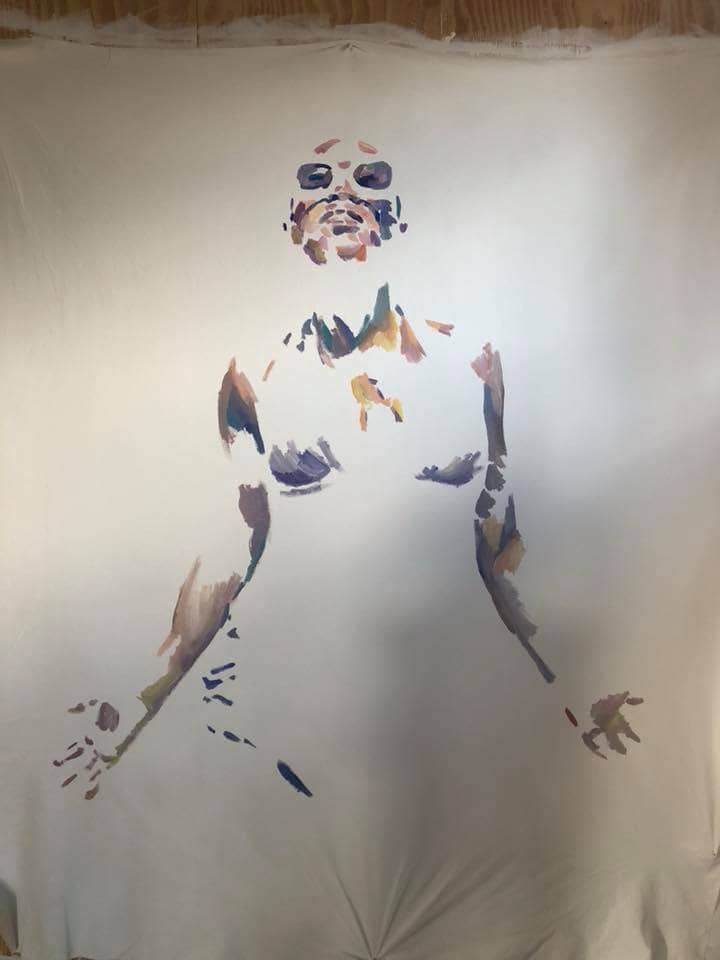 Above: God give me one more chance by Sheena Rose.
* Sheena Rose is a contemporary Caribbean artist from Barbados. In 2008, Sheena graduated with a BFA degree with Honors at Barbados Community College, and in 2016, she received her Masters in Fine Arts at the University of North Carolina at Greensboro with a Fulbright Scholarship. Sheena works with multimedia such as hand-drawn animations, drawings, paintings, performance art, mixed media, and new media