Above: Talk with my own Hand'/ Not fabricated Digital photo 2017 by Gregory Coates.
"My work is about a search for truth, who I am, and why I do what I do." – Gregory Coates
Despite gaining recognition as an abstract expressionist for his bold sculptures, installations, and assemblages, Gregory Coates primarily defines himself as a painter. Coates exploratory studio practice and compositional experiments with found objects have established him as a prolific artist with a compelling and extensive catalog. He studied at Corcoran School of Art in Washington, D.C. and has been exhibited at museums and galleries around the world including, the Smithsonian Institute of American Art, the Studio Museum in Harlem, The Philadelphia Academy of Fine Arts, Galerie Denkraum in Vienna, Austria, and Kamigamo Shrine in Kyoto, Japan among others.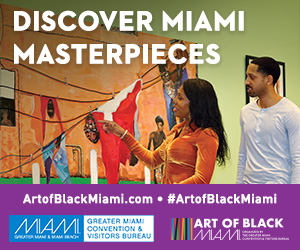 When I pulled up to his renovated warehouse studio in Allentown, Pennsylvania, he and his wife Kiki were sitting on the deck enjoying the sun and smoking cigars. They smiled when my partner and I approached the gate. Coates stretched out his long arms to welcome us into their home.
The gorgeous studio, rehabbed mainly by the couple, was covered wall to wall with Coates art; small and large assemblages, finished works and works in progress. I was intrigued by an experimental series, Making Mistakes (Success thru failure and risk), 2005-present, a collection of paper mixed media drawings that are crumpled into balls. Each ball is individually enshrined in a transparent plastic cube and stacked atop other "failures" to create a new sculptural assemblage. This act of creatively repurposing recycled materials and old artworks recurs throughout Coates career.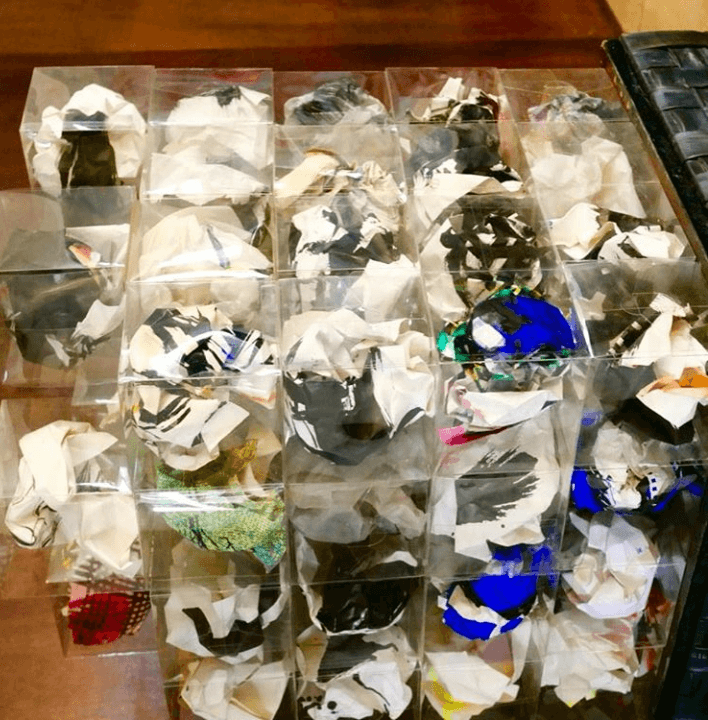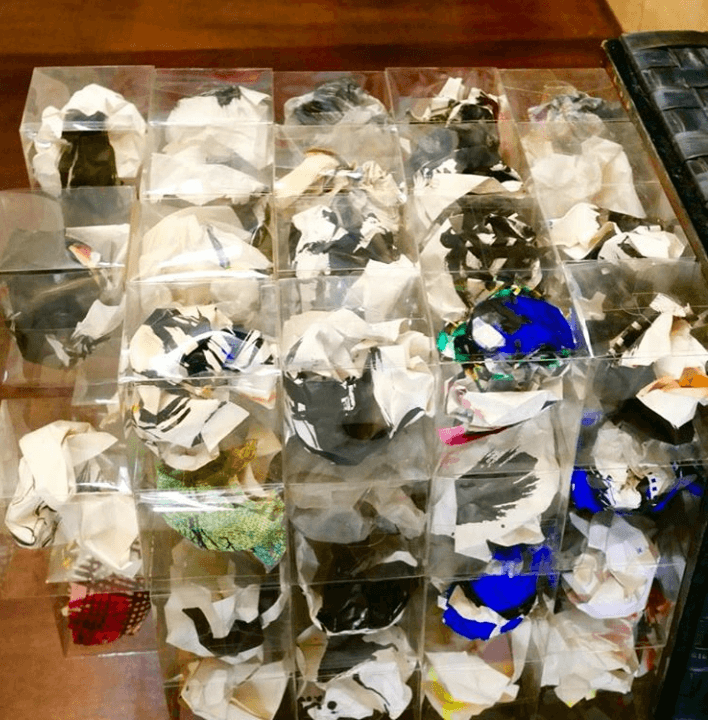 Above: Mistakesseries (Drawings failed ) 2015-2018 by Gregory Coates.
The artist, a consummate innovator, investigates the ways simple forms can embody and illicit an empathetic response from viewers. Coates considers his creations to be "social abstractions," deeply personal works that are informed by the artists lived experiences, memories or familial encounters but comment on broader political or cultural issues. "It's an inquiry about how to make art that is real, close to my life and inspired from things around me that have been instructional," Coates notes. His paintings are contextualized with blatant titles like "Seeing Red" (from the Afro Series), for a collection of seven bright crimson circular disks described as being about the current political atmosphere, or "Provocative" (from The Veil Series), for a red circular painting that peaks through a small opening between thin curtains. Relying heavily on juxtapositions of familiar objects and shapes with stark color palettes and dense textural landscapes, Coates can charge mundane articles with evocative weight.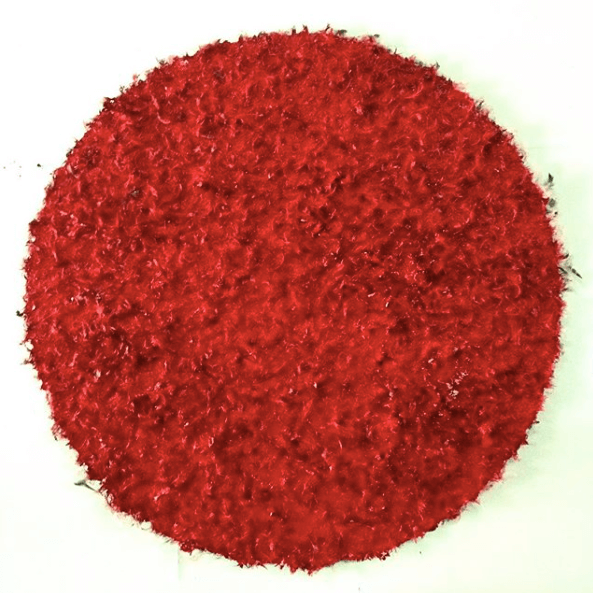 Above:Afro Series  #5. (A stylistic difference )/48″ dia. 2018 by Gregory Coates.
Coates masterful interplay between form, color, and texture is beautifully relayed in work dedicated to his grandmother, Beatrice Coates entitled, Cornrows Series, 2018. A collection of scrub brushes is arranged in rows or stacked on the gallery floor or wall. The bristles of the brushes are caked with mud, soil and a rusting agent that tinges the brown pigment of the organic matter a corroded orange. Coates, known for his distinct style, towering height, and bald head, recalled being chastised in his youth for wearing cornrows while attending a private Catholic school. This instance of Othering marked an essential moment in the artist's life that made him consider correlations between the policing of Black aesthetics and his grandmother's position as a domestic worker. Cornrows Series is not just a stylized representation of the pattern and texture of an African hairstyle, but a striking barebones commentary about civil liberties and histories of labor.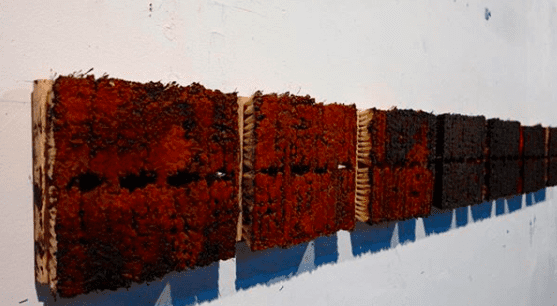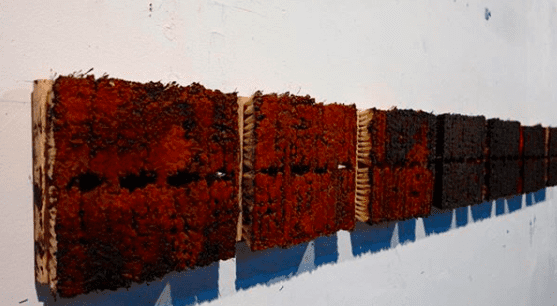 Above:Corn Rows (Brushes, dirt,rust and labor ) 2018 by Gregory Coates.
The Cornrows Series is one collection within a more extensive catalog of critical works that push the bounds of abstraction, a movement notoriously parodied for its inaccessibility, towards a new framework that is grounded in icons culled from the African-American experience. Coates work provides a counter perspective and timely commentary about the state of the world, and his role as an artist in unpacking it all.