For Derrick Adams, there's no such thing as "stay in your lane." That's because the 47-year-old artist did it all and was everywhere during Miami Art Week. He showed at three fairs: Art Basel Miami Beach, Untitled and Prizm Art Fair. He also opened a solo show at Primary Projects in the design district and curated a show at the National YoungArts Foundation gallery in downtown Miami.
The multidisciplinary artist's work includes performance, video, sound, paint, textile and paper-based collage and multimedia sculpture. When asked if there is one discipline he can't live without, Adams laughs and says, "If anything I would say drawing. I like to draw more than anything because drawing is a way to immediately respond to things I observe and am interested in."
Adams got his start as a curator of emerging artists at Rush Arts in 2001, founded by his cousins Russell, Danny and Joseph ("Rev. Run" of Run DMC) Simmons. While there he helped shape and launch the careers of several well-known artists including Mickalene Thomas, Wangechi Mutu, and Kehinde Wiley, who was recently chosen by former President Barack Obama to paint an official portrait. Adams says back in the day they all shaped each other. "There was no model at the time for how to professionalize artists in a certain way to become established in the art world," says Adams.
In the early days, Adams' career was also shaped by Franklin Sirmans, who is now the Director of the Perez Art Museum. "I admired him first as a person and then as an artist, and I've just been pleasantly surprised over the last 20 some odd years of just being able to watch his work evolve," said Sirmans. The pair met in New York City in the early 1990's when Adams was attending Pratt Institute. By the mid-1990's they were co-curators. "We did a really corny show at Marymount Manhattan College," said Sirmans.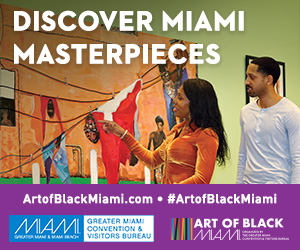 Fast forward 30 years later and Adams is curating for the National YoungArts Foundation, which identifies and nurtures young artists working across a wide range of disciplines. "We're supporting artists at critical junctures in their career," said the organization's director of artistic programs, Rebekah Lanae Lengel, following a gallery tour and talk.
The show of 11 YoungArts alumni that Adams curated, "Imagination Land: Fantastical Narrative," is highly artistic and thought-provoking. One standout is 18-year-old Elle Cox, a U.S. Presidential Scholar in the Arts. Her video installation, "And We Are Changed," deals with issues of race, identity, slavery, and consumerism all seen through the lens of a ceremonial ritual.
Adams said he is proud of all the young artists he is helping. "I always feel like the better I do, the more I need to help someone else," and the artist who does it all adds, "it feels empty when you are the only one celebrating."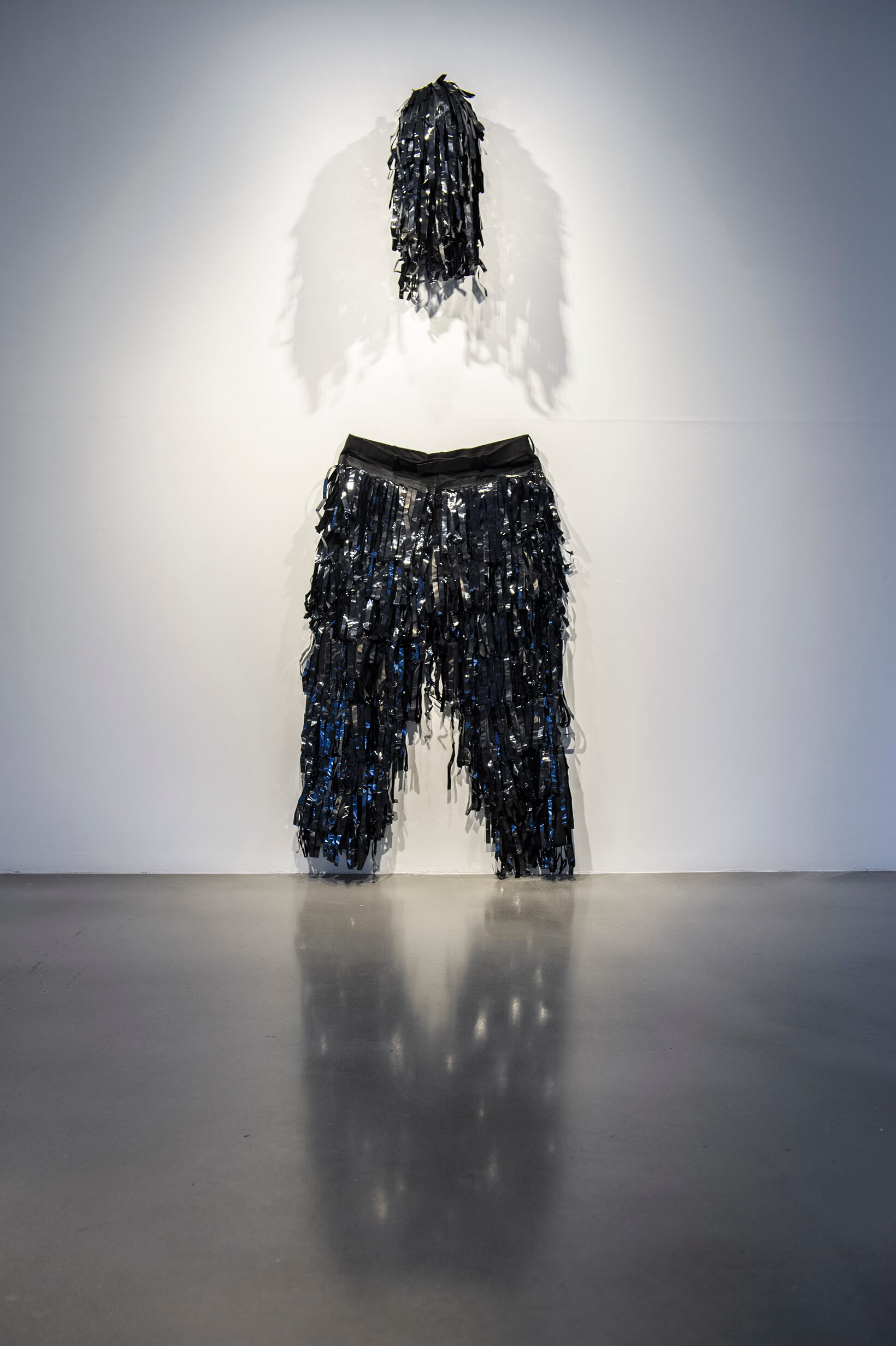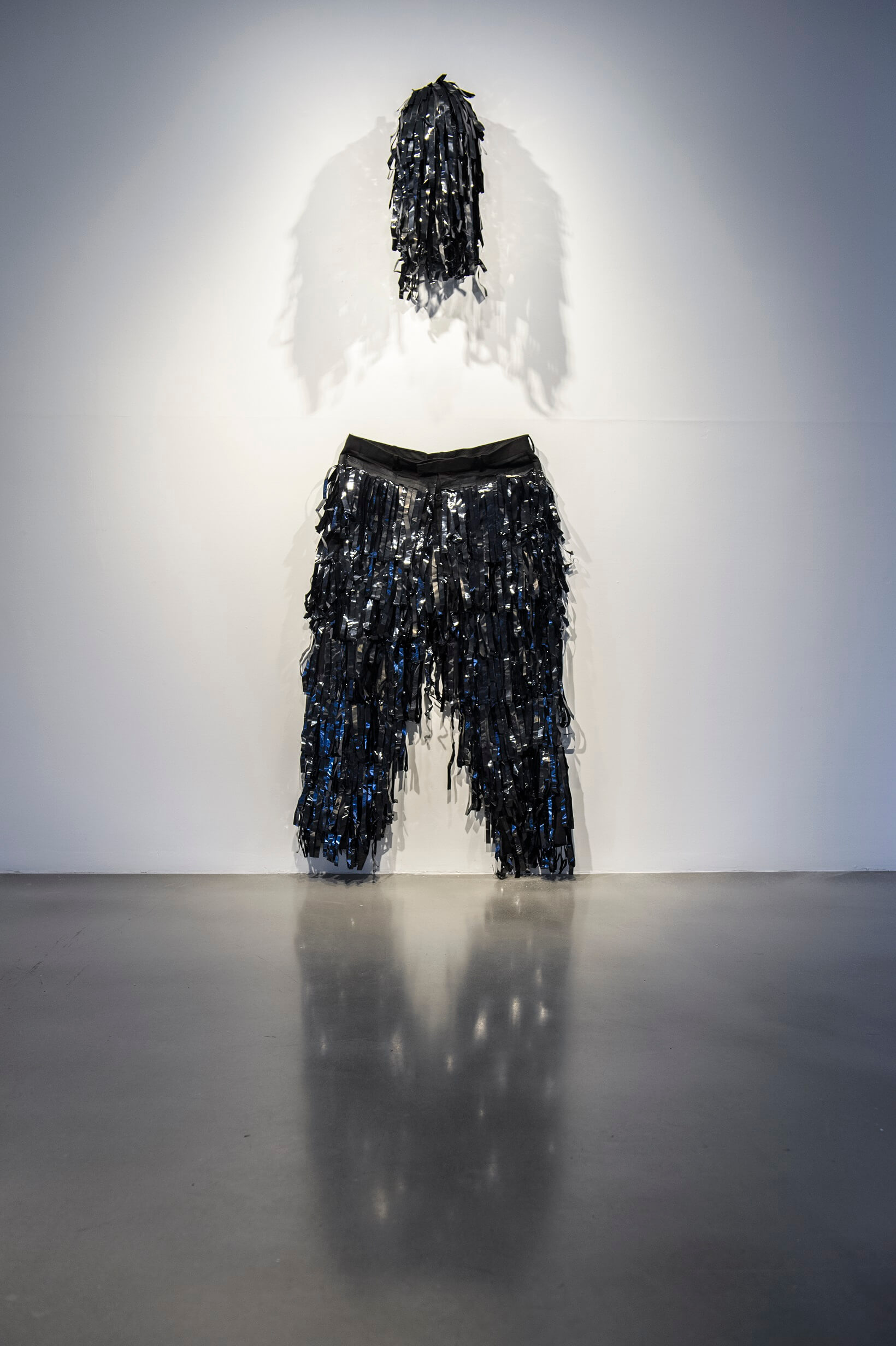 Adams role with YoungArts for the past five years has been far ranging. He helps select, teach and mentor students, as well as shape programming. Lengel says the choice was obvious, you learn from someone you recognize. "It's about making sure that we are responding to needs of the young artist that we're bringing in and it's critical that a young artist is able to work with someone who they see themselves in," said Lengel.
While Adams' own work is multidisciplinary, the common thread is his desire to have it uplift and elevate African Americans. That's evident in his colorful Floater series of blacks lounging in the pool. "I wanted to show a side of black life that is not necessarily depicted in culture and paintings and that is the black figure at rest. I think it's really important for audiences to see that, especially younger generations. In this society we live in we are constantly struggling and pushing back on things that have been done to us. We've also been able to achieve quite a lot," said Adams.
His current show at Primary Projects, "Black White and Brown," includes collages that highlight African American contributions to culture, like fashion designer Patrick Kelly's Vogue patterns, which mirror a turntable look. Or Adams' ode to female rapper Missy Elliot and her Supa Dupa Fly video in the form of sculptures. "I think everything in this show touches upon a certain aspect of black American culture that I think that people really don't know the origin of it. The activation as a whole echoes that sentiment," said Adams who wants blacks to be able to take credit and ownership in the things created by them.
Adams' says that doesn't mean forgetting the oppressive structure and struggle. "I decided a long time ago that I'm going to make less work, if not no work, dealing with issues of oppression and I'm going to let other artists do that because I think some people do it well. And I felt freed up to talk about other things that I think are not being covered necessarily and I'm hoping that I'm able to mentor other young artists of color to make these things," said Adams. So in the end, maybe this is Adams' metaphorical lane.
"Imagination Land: Fantastical Narrative." Through December 15 at the National YoungArts Foundation, 2100 Biscayne Blvd., Miami; youngarts.org. Admission is free.
"Black White and Brown." Through January 27, 2018, at Primary Projects, 15 NE 39th St., Miami; primaryprojectspace.com. Admission is free.