Above: View of the exhibit Spots, Dots, Pips, Tiles: An Exhibition About Dominoes curated by Maria Elena Ortiz.
By Onajide Shabaka
Miami and south Florida in general, where people take playing dominoes very seriously, dominoes can be thought of playing an Olympic sport. The cracks pops and slaps of the bones on the table will let you know just how serious this game is.
"Spots, Dots, Pips, Tiles: An Exhibition About Dominoes," curated by Maria Elena Ortiz at the Perez Art Museum Miami, showcases artworks that reflect the multilayered aspects of the domino game, a tradition that is heavily practiced in the southern US, Latin America, and the Caribbean. Hence, one can understand the game's strong local influences.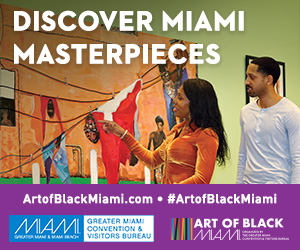 In the exhibition, one is likely to find a group of people laughing and playing a quick game on the table created by Edra Soto and Dan Sullivan. One of the most important aspects of the game is the community around it. The coming together of organized groups to have fun and provide a social outlet at times becomes the vehicle for fundraising, to help someone in need from back home, or in this new home.
The exhibition at Peréz Art Museum Miami offers up a selection of direct and indirect references to the game and the social aspects surrounding it. The aforementioned gaming table is a finely crafted piece of sculpture by husband and wife, Dan Sullivan and Edra Soto of Chicago. The luscious wood with inlaid stripes in yellow makes a table worthy of eating a meal off of. But, don't. It's for dominoes!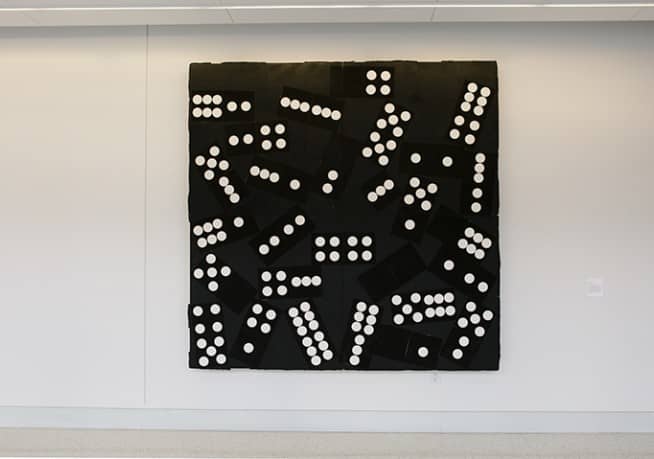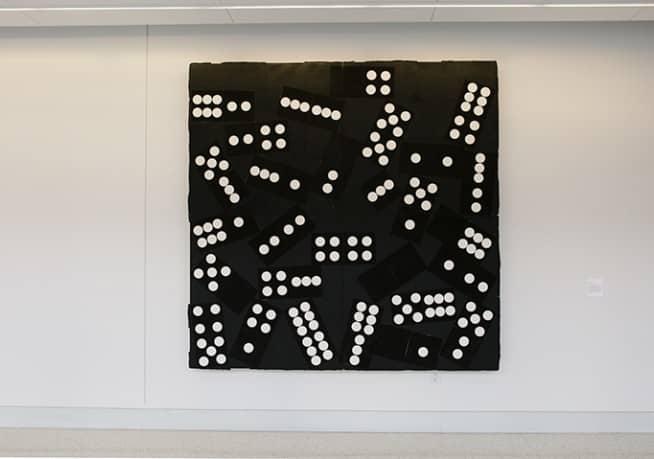 Above: Donald Sultan, Stacked Dominos Oct 28, 1994. Courtesy the artist, Photo: Natalie Conn.
In the US dominoes are also community oriented in similar ways to our Caribbean island neighbors. In the southern US, the gaming community defied Jim Crow, and eventually, laws were enacted to prevent blacks and whites from playing together. Another strategy to prevent a means of understanding between diverse people around a fun activity.
"It shall be unlawful for a negro and white person to play together or in company with each other in any game of cards or dice, dominoes or checkers."
—Birmingham, Alabama, 1930
The name "Domino" is most likely from the resemblance to a kind of carnival costume worn during the Venetian Carnival, often consisting of a black-hooded robe and a white mask. Domino tiles, also known as bones, are twice as long as they are wide and usually have a line in the middle dividing them into two squares. The value of either side is the number of spots or pips. These rectilinear shapes and "spots" are what make up the parameters of the visual art, but the options are wide for creating one's own specific art direction.
The captivating film by Donna Conlon & Jonathan Harker, "Domino Effect," tracks a configuration of bricks as they fall one on top of the next for what seems like across an entire city, at last climbing and falling into the sea! Dramatic and fun! It should be watched several times. And the delicately painted watercolor postage stamps by Donald Evans are exquisite. Donald Sultan has had a habit of creating works with hefty materials that belie the visual.
As with the many variations of the domino game, the variations of approaches and processes by which the artists have looked at the game we in Miami know so well, will take us back home and with our neighborhood friends and family. Bring them out to the museum and see that many find the game fascinating and fun.
Artists: Papo Colo, Donna Conlon & Jonathan Harker, Donald Evans, Öyvind Fahlström, Radamés "Juni" Figueroa, Adriana Lara, Glendalys Medina, Oscar Murillo, Rodolfo Peraza, José Patricio, Robin Rhode, Kenny Rivero, Betye Saar, Curtis Santiago, Edra Soto & Dan Sullivan, Donald Sultan, Ana Maria Tavares, Nari Ward, and Lawrence Weiner.
Pérez Art Museum Miami (PAMM)
1103 Biscayne Blvd.
Miami, FL 33132