Miami's fall festival season is underway, and adding to the landscape is Afrikin Fest, a new and multifaceted festival that places innovation at the forefront by highlighting the ingenuity, economic, and social opportunities of Africa and the African diaspora.
Joining in on a series of lectures and workshops called Afrikin Talks, influencers such as poets and activists, Dr. Sonia Sanchez and Mutabaruka, Village Voice music writer and producer Greg Tate, and Tufts University Professor, Dr. Thomas Gregory, will inform and empower festival goers interested in attaining human and capital resources.
The three-day festival also features a carefully curated assortment of musical acts that represent the African Diaspora. This year's lineup includes: Tiken Jah Fakoly (Ivory Coast), Jah9 (Jamaica), Raging Fyah (Jamaica), T-Vice (Haiti), Boukman Eksperyans (Haiti), Kevens (USA), Oshun (USA), Tarmac (Colombia), Margareth Menezes (Brazil), Laguna Pai (Peru), Spam Allstars (USA), Ada (France), Danay Suarez (Cuba), Cquer (USA), the SASA African Dance Theater (USA), DJ Stan Zeff (UK) and DJ P.E.A.C.E. (USA).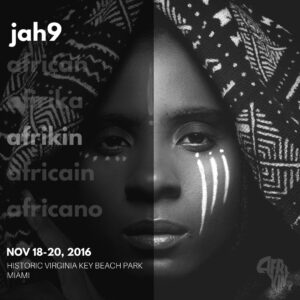 "We're excited to have a mix of prominent and global musical acts at the festival," Afrikin Fest producer, Alfonso D'Niscio Brooks stated. "Afrikin Fest is different from other festivals we've produced like Miami Reggae Festival and Bayside Rocks. This is also a forum, an opportunity to network and to attain knowledge." Brooks adds, "This is the first festival to take the usual music and arts formula, and blend with education, business, and activism, all in relation to the African diaspora. It's Africa's time, and we're just here to show people the way."
The weekend-long event will be held at Miami's Historic Virginia Key Beach Park from November 18-20, 2016, significant dates in history pertaining to the African diaspora (Battle of Vertieres, Haiti; Gettysburg Address, USA; Quilombo dos Palmares, Brazil). Event proceeds will benefit Give Me Dignity, a Miami-based nonprofit that provides resources for survivors of Childhood Sexual Abuse, as well as Man Dodo, a nonprofit organization that focuses on poverty alleviation in Haiti, with its current project providing Hurricane Matthew relief.
For festival information and to buy passes, visit: www.AfrikinFest.com.