Congressman John Lewis, the representative for Georgia's 5th District in the United States, is a dedicated public servant, an author and one the most important living figures from the Civil Rights Movement in the U.S.. This short interview by Danielle Issacs, Fine Arts Specialist at Adam A. Weschler and Son, gives insight into Congressman Lewis' love for art collecting and his wide breadth of knowledge of African American art.
Danielle Issacs (DI): How long have you collected works by African American artists? Who are the primary artists in your collection?
Congressman John Lewis (JL): I have collected African American art for almost 50 years. Romare Bearden, Jacob Lawrence and Charles White are the primary artists in my collection. I developed an appreciation for art when I was in school in Nashville during the 1960s. The great artist, Aaron Douglass, taught me art appreciation at Fisk University, and during the height of the Civil Rights Movement, African American art served as an inspiration to us all. Seeing our work, in the struggle, depicted on canvas or in other forms of fine art was very uplifting. My appreciation for African American art grew out of these experiences.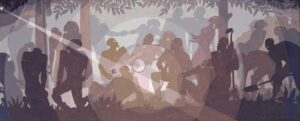 Study for Aspects of Negro Life: An Idyll of the Deep South – Aaron Douglas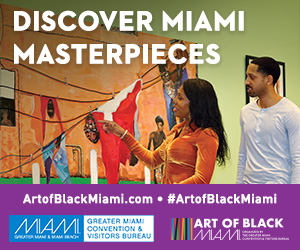 DI: Do you think it is important for works by Washington DC artists, such as Lois Mailou Jones and Sam Gilliam, to stay in DC, or is it good they are being collected throughout the United States and even internationally?
JL: I think it's important that the work of great artists like Jones and Gilliam be shared throughout the world, especially in traveling exhibitions. But it is so fitting and appropriate for as many of the works of these artists to be viewed by visitors who come to Washington seeking to understand the cultural history of the city. These works should be owned by Washingtonians because they express the last 100 years of contribution African Americans have made to this city. Ownership demonstrates the indelible connection between the artists from another period and the culture of the city today.

DI: Randy Kennedy of the New York Times recently wrote an article entitled "Black Artists and the March into the Museum." Referring to the increase in African American centered exhibitions at museums, Kennedy writes "One result is a growing realization by ambitious collectors that the absence of important works by black artists in their collections diminishes their own seriousness. What is you opinion of collectors of American art suddenly realizing their collections are incomplete without African American artists?
JL: I think that the museum community, art activists, and the artists themselves must do a better job of affirming that African American art is American art of world-class caliber. The stories of African Americans are some of the most inspiring stories of human history. They speak of pain and suffering, the on-going struggle for human dignity, the hopes, aspirations and dreams of a people. These are universal concepts and ideas expressed beautifully and innovatively by African American artists. Perhaps some museums and collectors have finally realized that we all have stories to share, and it is not possible to tell the whole story of this nation without including African American art.

This short interview, initially published at Black Art Project, offers a transition into exploring the selections of art that are available in a special upcoming auction of African-American art at Adam A. Weschler and Son.