It's Black History Month! February is always a busy time for those of us that celebrate the history of the African in America. To help you navigate the enormous amount of events and performances, Sugarcane Magazine chose four affairs in the United States that you can't miss.
Third Annual Reception for the PAMM Fund for African-American Art (Miami)
On Tuesday, February 16, 2016, Pérez Art Museum Miami will welcome more than 500 Ambassadors for African-American Art to the museum for a celebration at the Third Annual Reception for the PAMM Fund for African-American Art presented by the John S. and James L. Knight Foundation. The evening will showcase a performance, Ground (In Progress), presented by PAMM exhibition artist Nari Ward. Ground (In Progress) is a floor-based sculpture made from 700 copper-topped bricks and adorned with painted geometric symbols drawn from the Underground Railroad directional code. Five local dancers will perform and improvise atop Ward's sculpture and respond to its ideas of the untouchable and historic nature of works of fine art using a range of dance styles. Also, guests will enjoy a musical performance by Girl Power's Girls' Choir of Miami, a local organization that strives to provide opportunities for girls in a year-round quality music education program and a complimentary dinner reception following the program.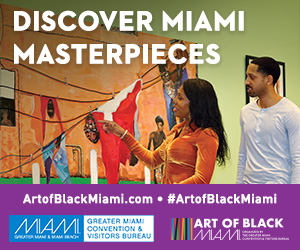 Initiated with a $1 million grant, funded equally by Jorge M. Pérez and the John S. and James L. Knight Foundation, the PAMM Fund for African American Art builds on PAMM's longstanding commitment to exhibiting and collecting the work of African American artists. The support of PAMM's Ambassadors for African American Art helps grow the collection with works by significant artists such as Al Loving, Faith Ringgold, Rashid Johnson, Kehinde Wiley, Purvis Young and more. Pérez Art Museum Miami, 1103 Biscayne Blvd., Miami, FL 33132 from 7:00 PM to 10:00 PM.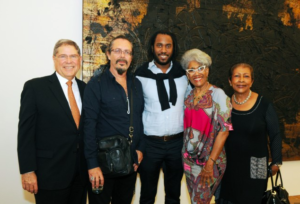 Alberto Ibargüen, José Bedia, Rashid Johnson, Antonia Williams-Gary, Mireille Chancy Gonzalez
Between Riverside and Crazy ( Washington D.C.)
Starring Frankie Faison, irrepressible ex-cop Walter Washington is facing eviction, City Hall, and the recent death of his wife. Clinging to both his grievances and the palatial rent-controlled apartment he shares with his ex-con son and a ragtag surrogate family, Walter needs to shake the past—but isn't ready to move on. Purchase tickets here.

The DuSble Museum of African American History,
Lashonda K.Barnett Discusses the novel "Jam on the Vine" ( Chicago)
Best­selling author, LaShonda K. Barnett discusses her new book, Jam on the Vine. A historical fiction, Jam on the Vine is a new American classic: a compelling tale of triumph against the odds and the compelling story of one woman's struggle for equality. The novel tells the story of Ivoe Williams, the precocious daughter of a Muslim cook and a metalsmith from central­ East Texas, first ignites her lifelong obsession with journalism when she steals a newspaper from her mother's white employer. Living in the poor, segregated quarter of Little Tunis, Ivoe immerses herself in printed matter as an escape from her dour surroundings. She earns a scholarship to the prestigious Willetson College in Austin, only to return overqualified to the menial labor offered by her hometown's racially biased employers. The talk takes Place February 19. Get details here.
The Northwest African-American Museum (Seattle, Washington)
The Atomic Frontier: Black Life in Hanford, WA
While many people know of the scientific research and discovery of nuclear weapons under the government code name of the Manhattan Project, few know how the contributions of African-Americans helped realize this vision right here in Washington State. The Atomic Frontier: Black Life at Hanford uncovers what it was like to work in secrecy on an undisclosed "war project" in the early 1940s, an experience complicated by discrimination, segregation, and the unfamiliar geographic landscape of eastern Washington. The exhibit closes March 6th.Learn more about this important institution visit here.