Art Basel's Conversations series launches with the Premiere Artist Talk, which will see Vietnamese-born Danish artist Danh Vō discuss his most recent and innovative projects, including his presentation at the Venice Biennale, with Manuela Ammer, curator, mumok, Vienna. As part of a larger focus on the African continent in the Conversations and Salon program, András Szántó, author and cultural consultant, leads a discussion as part of the Public/Private series on Thursday morning entitled 'Works in Progress: Building New Art Institutions in Africa'. The talk will evaluate both the promise and challenges of a continent that is commanding increasing interest from the international arts community with Marie-Cécile Zinsou, president, Fondation Zinsou, Cotonou, Benin; Touria El Glaoui, founder, 1:54 Contemporary African Art Fair, London; Koyo Kouoh, founding artistic director, RAW Material, Basel; Mark Coetzee, director and chief curator, Zeitz Museum of Contemporary Art Africa, Cape Town and Raphael Chikukwa, chief curator, National Gallery of Zimbabwe, Harare, Zimbabwe.
As part of his ongoing series on the diversity of artistic practice, a panel led by Hans Ulrich Obrist, co-director, Serpentine Gallery, London, will focus on 'The Artist as Archaeologist'. The 10th installment of the series will bring together several artists from a range of generations whose work takes inspiration from archaeology, excavation or research. On Saturday, the Conversations panel offers a dialogue about the unique and essential relationship between artists and their gallerists with Andrée Sfeir-Semler, director, Sfeir-Semler Gallery, Hamburg/Beirut and Egyptian artist Wael Shawky. On Sunday, 'Rethinking Kunsthalles and Non Profits', moderated by Marc-Olivier Wahler, founder and director, Chalet Society, Paris, looks into the evolution of the Kunsthalle with Anthony Huberman, director and chief curator, Wattis Institute for Contemporary Arts, San Francisco; Matthew Higgs, artist, director and chief curator, White Columns, New York; Elena Filipovic, director and chief curator, Kunsthalle Basel, Basel; Solveig Øvstebø, executive director and chief curator, The Renaissance Society, Chicago, and Samuel Leuenberger, director and curator, SALTS, Basel.
Highlights of the afternoon Salon program, an open platform for short presentations, includes a discussion on Milan in the 60s focusing on Italian artist Paolo Scheggi. Moderated by Mirta d'Argenzio, art historian, Rome, the panel includes Bernard Blistène, director, Département du Développement Culturel at Centre Pompidou and director, Musée National d'Art Moderne, Paris; Luca Massimo Barbero, associate curator, Peggy Guggenheim Collection and editor of the upcoming 'Paolo Scheggi: Catalogue Raisonné', Venice. As part of Josh Baer's series on the art market, the publisher of Baer Faxt and art advisor, will discuss 'Commissioning in Today's Market' with Benjamin Weil, artistic director, Centro Botín, Santander, Spain; Heike Munder, director, Migros Museum für Gegenwartskunst, Zürich; Patrizia Sandretto Re Rebaudengo, president, Fondazione Sandretto Re Rebaudengo, Turin and Marc Payot, partner and vice president, Hauser & Wirth, New York.
On Friday, highlights include a discussion on the power of contemporary art with Bonaventure Soh Bejeng Ndikung, curator, art critic and director, SAVVY Contemporary, Berlin; Moataz Nasr, artist and founder, Darb 1718 Contemporary Art & Culture Center, Cairo; Jean Lamore, artist, writer and filmmaker, Paris and Chris Dercon, director, Tate Modern, London, moderated by Simon Njami, writer, independent curator, founder and chief editor, Revue Noire, Paris. Chus Martinez, head of the Art Institute at Academy of Art and Design, FHNW, Basel, will moderate a discussion entitled 'The Caribbean is the Future of Art' with Sara Hermann, Dominican art historian and curator, Dominican Republic; Yasmil Raymond, curator of Allora & Calzadilla's 'Puerto Rican Light (Cueva Vientos)', Puerto Rico, and as part of the Art Market series Olav Velthuis, associate professor, University of Amsterdam, Amsterdam, and Stefano Baia Curioni, associate professor, Università Bocconi, Milan, will moderate 'The Myth of a Global Art Market' with Lu Jie, artist, curator and founder, Long March Space and Project, Beijing; Marcio Botner, artist, founder of A Gentil Carioca and CEO Ocalage, Rio de Janeiro.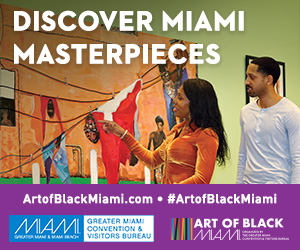 As part of the Salon talks on Africa, Bomi Odufunade, director, Dash & Rallo Art Advisory, London/Lagos will be moderating 'Collecting Africa' with Prince Yemisi Shyllon, collector and founder, Omooba Yemisi Adedoyin Shyllon Art Foundation, Lagos and Bruce Campbell Smith, collector, Cape Town. The Salon program will then end on Sunday with a discussion moderated by Maxa Zoller, curator of Art Basel's Film sector and independent curator, Cairo, on 'Beyond Austerity: Supporting Art in Cultural Crisis' with Aleya Hamza, founder of Gypsum Gallery, Cairo; Katalin Timar, lecturer, Theory and Art History, University of Pecs, Pécsi, Hungary; Övül Durmuşoğlu, curator and writer, Berlin/Istanbul and Khaled Jalanbo, director, The Jalanbo Collection, New York.