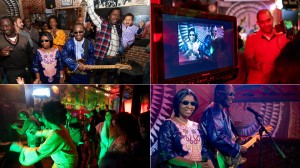 As a proud member of the African Diaspora, I stay plugged in to the African Arts arena, always looking for the newest hit, latest trend and who will be talking about in the future. Abdel Ouedraogo is a part of that trend right now. Mr. Ouedraogo's venue, The Shrine serves up a stew of everything African from Nollywood film premiers to the hottest bands.Writter and producer Jake Bright caught up with him to learn about his work and impact it has on the new renaissance happening now in Harlem New York.
ARCHETYPEME: How did you found Shrine in Harlem?
ABDEL OUEDRAOGO: I came to Harlem because of the music. Harlem was a dream for me and the idea for Shrine was about music. In 2007 I put together the funding to get the space. I named it after my hero, Fela Kuti, and his original Shrine in Nigeria, and I modeled it after a club I once owned called Sahel in Ouagadougou, Burkina Faso.
Continue reading here