Arte': Negus in Paris at the Backlash Gallery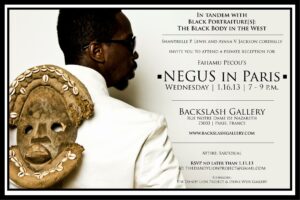 Backslash Gallery is pleased to welcome back American artist Fahamu Pecou, whose latest paintings and drawings address the representations of black men in modern society, engaging in particular with the idea of Négritude as famously symbolized by Aimé Césaire and Léopold Sédar Senghor.
Black Americans can cite numerous anecdotes about the various uses of the word 'black', one striking example being actor Gwyneth Paltrow's description of hip-hop superstars Jay-Z and Kanye West's West Watch the Throne Tour. Paltrow posted a photo of the pair on her Twitter account, accompanied by the message "Niggas in Paris, for real". Her use of the word "nigger" created a storm on her Twitter account although she was simply repeating the word "niggas" used by Jay-Z and Kanye West as part of the title for a song off their eponymous album. Often heard within black American society, the word when written down by a white person raises questions of legitimacy, and the matter was very widely debated. Is it possible for a white person to use the word "nigger" in the light of history's heavy burden of racism and slavery?
The NEGUS in Paris exhibition, inspired by Jay-Z and Kanye West's song " Niggas in Paris", constitutes an acerbic analysis that challenges a certain conformism, particularly that displayed by Black American culture, which can distort the image of Négritude within the public debate. With his characteristic wit and feel for satire, Fahamu Pecou offers timely observations on the various conflicts relating to black iconisation as triggered by this debate and their influence on popular culture.
Pecou replaces the terms "niggas" with "Negus", an Amharic word used to describe Ethiopian royalty in general, and Haile Selassie in particular. He uses this wordplay to subvert the endless hate-filled insinuations that surround use of the word "nigger". The works in the exhibition feature a series of black Americans famous for their contributions to the history of Parisian art and culture, exploring their influence and distinction. Fahamu Pecou's works have been shown worldwide, including at the Torrance Art Museum in California (2010), Bell-Roberts Gallery in Cape Town (2009), Museum of Contemporary African Diasporan Arts in Brooklyn (2008), Austin Museum of Art in Texas (2008) and the High Museum of Art in Atlanta (2005). Fahamu Pecou has a particularly active online presence and has initiated a large number of debates on modern art's place in contemporary American society, in particular via the 15 Project, a program of conferences held at arts centers, museums and universities in Europe and the USA. In 2011, he was awarded the NBAF Impressions Emerging Artist Award.
Backlash Gallery is located at:
29 rue Notre-Dame de Nazareth
75003 Paris
Tube Stations Arts & Métiers, Temple or République
+ 33 9 81 39 60 01
info@backslashgallery.com
BACKSLASH is opened from Tuesday to Saturday, from 11am to 7pm