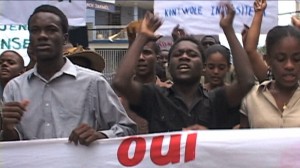 The Tribeca Film Festival is one of the best festivals in the United States and their selection of cinematic offerings always pleases one's desire to see quality films. This year they have a a great line up of films that is of interest to Sugarcane readers. To purchase tickets and to check showtimes , visit here.
Stones in the Sun (Woch nan Soley), directed and written by P. Benoit. (USA, Haiti) – World Premiere, Narrative. In the 1980s, in the midst of increasing political violence, a young couple, two sisters, and a father and son are driven from Haiti to New York, where they must confront the truths of their interlocked pasts. In her impassioned, penetrating feature film debut, Haitian director P. Benoit steers clear of clichés about immigrants and refugees, authentically tapping into the reality of the unique Haitian-American experience. In English, Haitian Creole with subtitles.
El Gusto, directed and written by Safinez Bousbia. (Algeria, Ireland, UAE) – North American Premiere, Documentary. A rhythmic cocktail of European and Arabic traditions, chaabi music was the heart and soul of cosmopolitan Algiers in the 1940s, but the war of independence with France tore apart the peaceful Muslim and Jewish communities that came together to play this unique music. A group of over-the-hill but still fiery musicians reunites after five decades apart in this spirited, gorgeously shot documentary about music's power to transcend cultural boundaries. In French, Arabic with subtitles.
Benji, directed by Coodie and Chike. (USA) – World Premiere, Documentary. In 1984, 17-year-old Ben Wilson was a symbol of everything promising about Chicago: a sweet-natured youngster from the city's fabled South Side, and America's top high school basketball prospect. His senseless murder on the day before his senior season devastated the city of Chicago and sent ripples of anguish nationwide. A stirring portrait of a phenom admired both on the court and off, Benji tells the story of a legend who might've been.
Wavumba, directed by Jeroen van Velzen, written by Jeroen van Velzen and Sara Kee. (Netherlands) – North American Premiere. Mysticism and color reign in this stunning documentary steeped in the fishermen lore of Kenya. Revisiting a childhood fairy tale of a spirit-filled island with the magic to either bless or curse a fisherman's journey, Dutch filmmaker Jeroen van Velzen explores his memories via Masoud, a real-life legend of shark fishing. His glory days long gone, Masoud relives his youth through grandiose stories told with swaggering pride and heartbreaking nostalgia. In English, Swahili with subtitles
The Virgin, the Copts and Me (La Vierges, les Coptes et Moi), directed by Namir Abdel Messeeh, written by Namir Abdel Messeeh, Nathalie Najem, and Anne Paschetta. (France, Qatar) – North American Premiere. In his feature debut, French-Egyptian filmmaker Namir Abdel Messeeh sets out to investigate the phenomenon of supposedly miraculous Virgin Mary apparitions in Egypt's Coptic Christian community. But when the secular director faces opposition from skittish producers and his Coptic family, Namir turns the camera on his wonderfully smart-alecky mother and reimagines his film as a touching, uniquely hilarious portrait of family and heritage. In Arabic, French with subtitles.