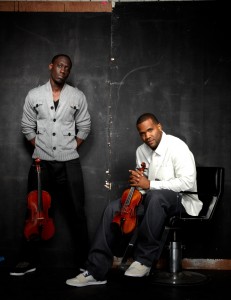 The African presence in music stretches far and wide throughout the western music, and Classical music is no exception. With musicians like Le Chevalier de Saint-Georges, Ignatius Sancho and Girma Yifrashewa making a large imprint on the genre, it comes as no surprise that a younger generation would walk in their footsteps. Black Violin, a dynamic classically trained string duo from the Southern United States ( South Florida to be exact) is taking Classical music in a fresh direction that thrills audiences everywhere. Their inspiring musical journey might just have you looking at violins for beginners and start learning this magical stringed instrument too! Black Violin ( Wil B and Kev) are on tour and I spoke to them as they prepare to perform at the on January 14, 2012. They share with us their inspirations and details on their much-anticipated project.
How did you the two of you meet? We both met in high school at Dillard High School in Fort Lauderdale in band class. Wil was in 9th grade, and I (Kevin) were in 10th grade.
Tell me about your training? Where did you study? We both studied in High School at Dillard High School being classically trained and went off to college. Wil attended Florida State University, and I (Kev) went to FIU.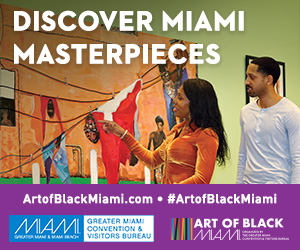 What inspired you to merge hip-hop with classical music? We grew up listening to hip-hop and inspired by hip hop and would toy around with different hip hop songs such as Busta Rhymes on the violin for fun and each time we would play people would love the sound and go crazy for it so we felt as if we had something special people could enjoy from playing the violin.
How have the arts impacted you lives? Well, so many artist have impacted our lives such as Stuff Smith a violinist in the 30's who were one of jazz music's preeminent violinist of the swing era. He was the inspiration also behind our soulful sound and name of our group. The arts have impacted our lives by saving us from the urban streets and allowing us to eventually make a career out of the arts we learned as youngsters.
You have worked with some of the most important artists in the music business and have released your own albums . What projects are you working on now? When can we expect it? Yes we have worked with everyone from Akon, Diddy, 50 Cent to Linkin Park and many more and Alicia Keys who gave us our start. Shout out to Alicia Keys. We are a independent company and label. We released our first album self titled called "Black Violin" in 2008. Right now we are finalizing our new album called Classically Trained. The album is fresh new and full of up beat new ideas we came up with. We are expecting it to be out by the summer of 2012.
We admire your artistry and want to know what inspires you artistically. What music are you listening to? Thank you for admiring what we do. We have worked extremely hard at our craft. Wil listens to lots of old school legends like Marvin Gaye, Curtis Mayfield, Stevie Wonder, etc. Myself, (Kev) I am currently listening too my music, Classically trained, Adele, Linkin Park, Common and a few more good artists.
Want a taste of Black Violin, watch them here: