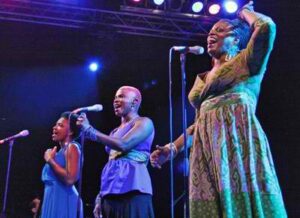 Angelique Kidjoe, Lizz Wright and Dianne Reeves are vocal powerhouses that have moved audiences worldwide. So I was excited to see that the ladies are touring a new show this year. Here is the description from Angelique Kidjoe's website:
"DIANNE REEVES, and LIZZ WRIGHT continue the legacies of recently departed legends Miriam Makeba, Abbey Lincoln, and Odetta, and perform songs by other great women of music, ranging from Billie Holiday to Lauryn Hill, along with selections of their own original songs.
Kidjo, Reeves and Wright became close friends and collaborators while traveling and performing together in the SING THE TRUTH tour in Europe in 2009. The friendship and shared spirit among the three brilliantly talented women grew into the beginnings of a new touring show. Few performing artists have embodied "being real" more than Nina Simone, and that is what drew Kidjo, Reeves and Wright together. That is who they themselves are.
Following up on the original run of performances, the three women decided to open up the repertoire – to celebrate and honor songs of their most important musical heroines. It was obvious that SING THE TRUTH fully embodies the spirits of Makeba, Lincoln, and Odetta, along with the songs of Ms. Holiday, Hill and many other great women. It was also apparent that a new band was necessary to do justice to the range and passion of the music.
The all-star SING THE TRUTH ensemble features GERI ALLEN on piano and keyboards, music director TERRI LYNE CARRINGTON on drums, JAMES GENUS on bass, and ROMERO LUBAMBO on guitars. This remarkable group of musicians will go everywhere and anywhere that Angelique Kidjo, Dianne Reeves and Lizz Wright feel the music takes them. The audience will be along for a memorable ride."
Sounds like a winner to me! Here is a performance with the ladies and Lisa Simone :
Want to see this tour? Visit here for the schedule