Related Urban, the affordable housing arm of industry-leading developer Related Group, in partnership with The Black Archives, The Greater Miami Convention and Visitors Bureau and Art Forever Miami, is pleased to announce Soul of Miami, a new initiative dedicated to highlighting Black lives, culture and the contributions of the Black community across Miami. As part of this effort, Related Urban and its partners are seeking three local creatives to collaborate on creating site-specific artworks, which will be installed across their Liberty Square Rising redevelopment.
Applications for the open call are open until 11:59 pm on Thursday, February 24, 2022. Finalists will be announced on Thursday, March 3. Those interested should contact soulofmiamiarts@gmail.com.
"At Related, we are excited about our revitalization efforts at Liberty Square Rising and we remain committed to creating the best place to live, work and create in Liberty City," said Alberto Milo Jr., Principal of Related Urban. "As we celebrate Black History Month, it is essential we not only honor the historic contributions of the Black community, but also highlight a new generation of creatives working together to embody the Soul of Miami. We're confident this new initiative will make Liberty Square Rising a culturally rich and vibrant destination."
"Highlighting Miami's cultural neighborhoods is a priority in our overall destination marketing efforts," said Connie Kinnard, Vice President of Multicultural Tourism & Development for the Greater Miami Convention & Visitors Bureau. "Soul of Miami aligns with our latest Art of Black Miami marketing platform, which we plan to showcase as we seek to uplift local artists. This is not only beneficial for our community, but it's also a point of interest for visitors that are culture and art seekers."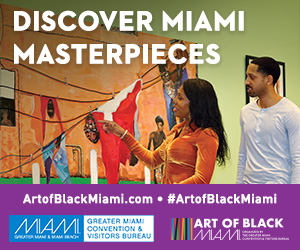 Soul of Miami is open to all professional visual artists residing in Liberty City or to those who have a strong working relationship or connection to the neighborhood. Other requirements include:
Experience working across various artistic mediums
Willingness to lead a series of community workshops involving stakeholders, youths, and residents
Experience with commercial or public arts projects is preferred but not required
Special consideration will be given to artists with a history of youth and/or community engagement projects
The selected team of artists will be fully responsible for developing art projects within the allocated budget of up to $250,000.
"This opportunity is extremely important to us and our creative comrades because it enables our artistic prowess to become a reality in our local communities," said Addonis Parker, Chief Executive Officer of Art Forever Miami. "The Soul of Miami project interlocks with our mission and goals of creating a new narrative historically and allowing the youth to have access to art and experience a new, colorful dynamic in their own backyard."
All applications should include a copy of a current resume, artistic statement, and no more than ten images of previously completed artworks. For more information or to submit an official application, please email soulofmiamiarts@gmail.com.