Above: Image courtesy of BET
BET has done it again. The BET Awards today had my fam glued to the TV with our candy and lemonade iced-tea mix, sure to keep our sugar up in these festivities. (Don't tell my doc, y'all.) Skittles, for instance, one of my choice snacks, was one of the snacks that Amanda Seales opened with, connecting it to the death of Trayvon Martin. This is a testament to one of the symbolic ways that this award show celebrates the lives of the living and the fallen ones and addresses daily issues that plague our communities. 
We knew that we could not miss this celebration of Black excellence in music, filmmaking and scholarship (shout-out to this year's Princeton University valedictorian Nicholas Johnson). From Burna Boy's call for Pan Africanism to Amanda Seales keeping it funky and fresh with her rap interludes, Karen skit, and leather dress ensemble with the background of the Black Lives Matter moniker inscribed on the street, the BET awards proclaim that the party, the culture, and Black folks don't stop but we keep it pushin'.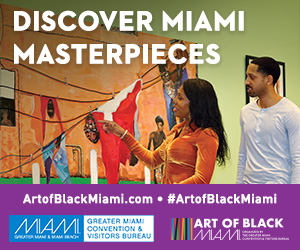 Clearly, it is bold to take on a virtual format for the 40-year anniversary of the Black Entertainment Television network. While we cannot see all of the network of Black aunties, uncles, cousins, moms, dads, kids, friends and the fam at the cookout you can't name but know they are kin, we feel the reverberations of the collective with powerful performances and social media statuses showing that people are tuning into the awards. The virtual space had to press on because the culture does, and they make their message perfectly clear by beginning with Fight the Power.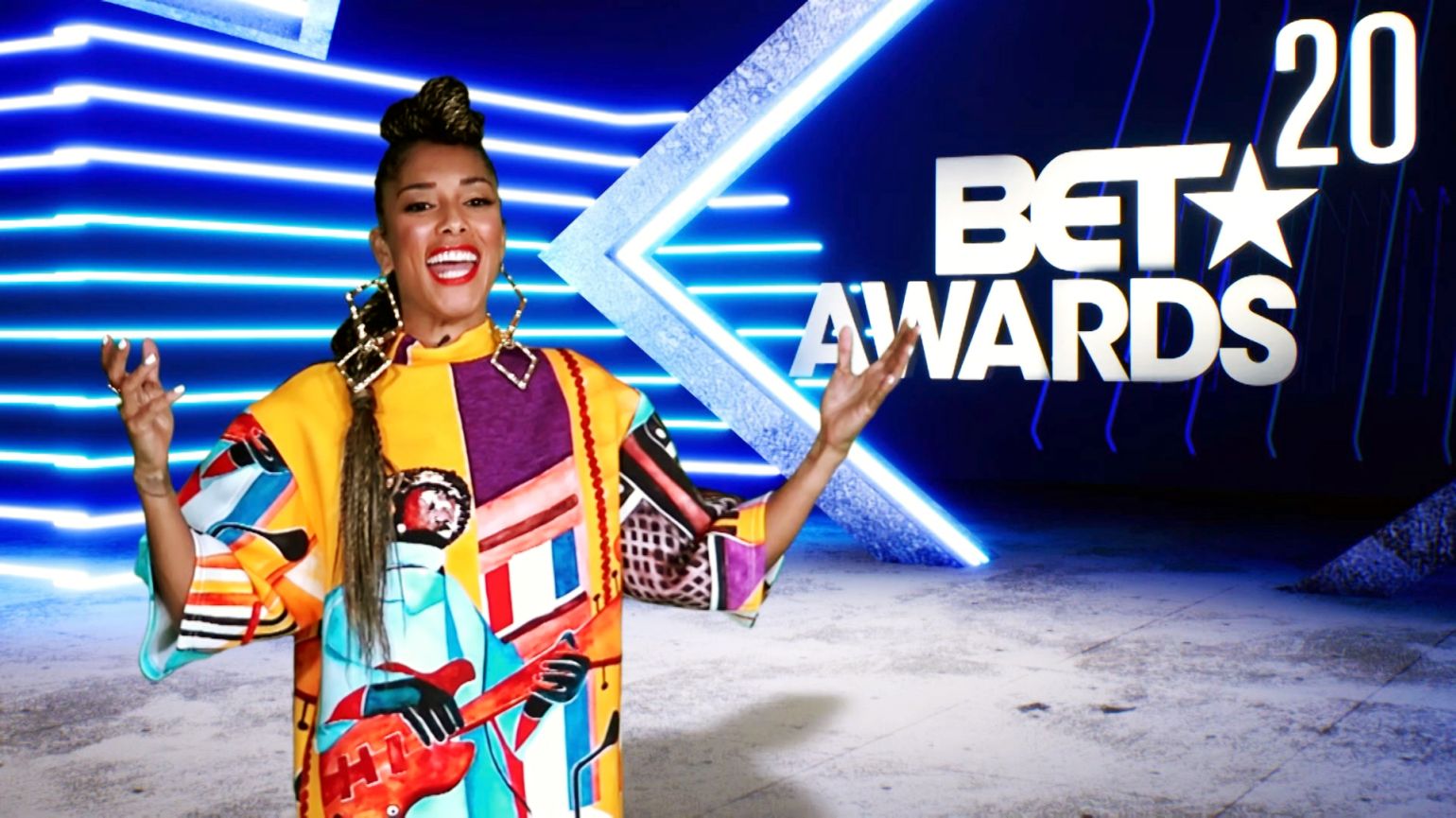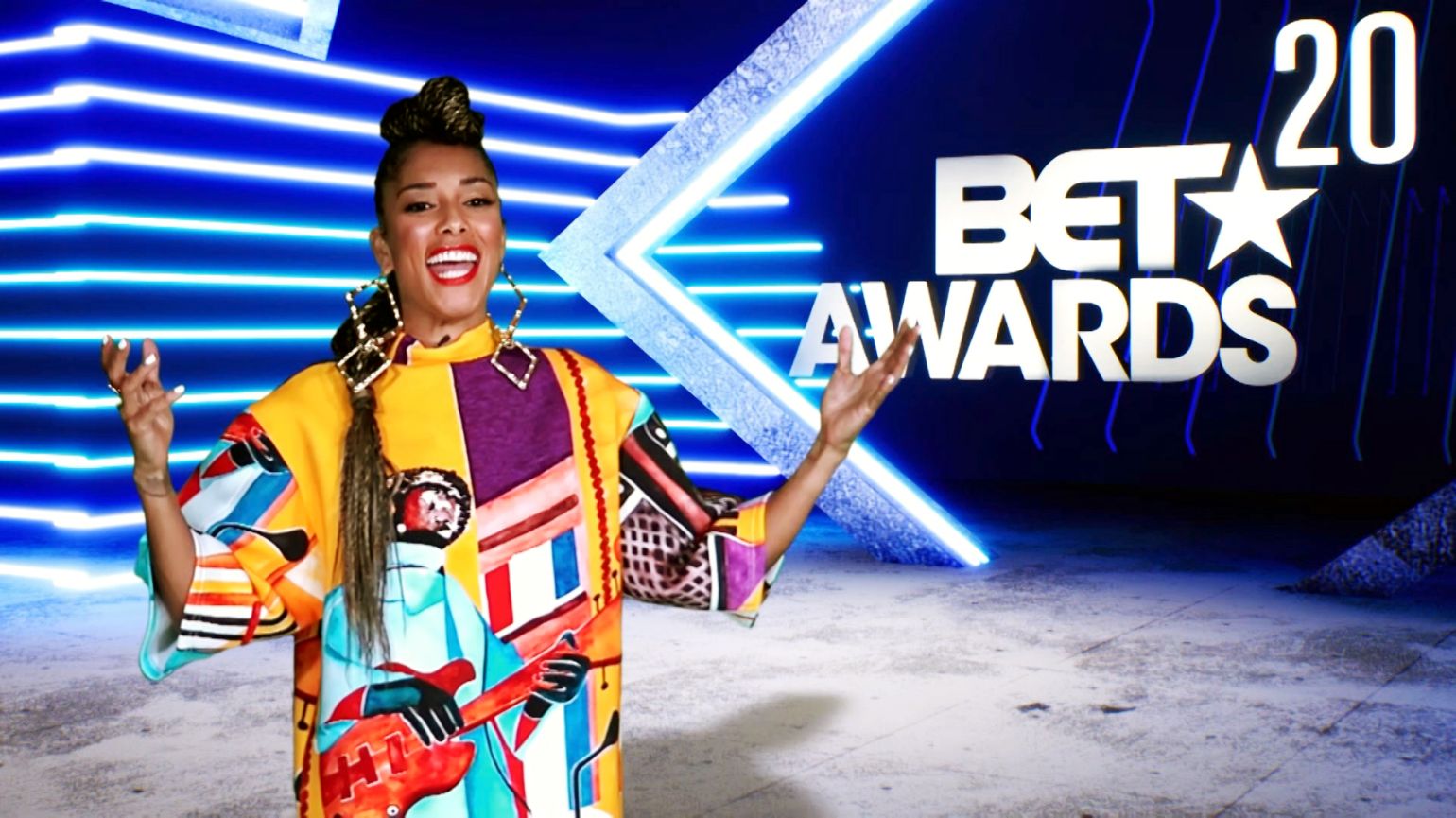 Small Doses of Truth, Twerking, and Activism
Amanda Seales, the exuberant host, comedian and actress extraordinaire, treats us with her comedic and straightforward interludes. The most notable one is the Karen skit with the blonde bob and let-me-talk-to-your-manager attitude. This skit not only demonstrated the powerfully manipulative actions against Black bodies, but the significance of a Black woman infiltrating that space is that it exposes the ridiculousness and fraying of systemic Karenisms. In great satire, it unravels the system from within where the white woman could not see the difference between white and Black.
As a break from grappling with white supremacy, Meg Thee Stallion turns it around by making statements against respectability politics by being free and reclaiming stereotypes of ratchetness. ("Classy, Bougie, Rachet" can all coexist at the same time.) So unclutch the pearls and enjoy a testament to Black joyful expression. Especially because it is so awe-inspiring: twerking in an environment where "California love meets Mad Max." It will make you say, "aaaahhh *Meg voice*!"
Woven through the entire show is the Black Lives Matter movement. D. Smoke and SiR portray this as a family affair that copes with police violence and racism in their community. And Anderson Paak, with a bloody and bruised face, portrayed a burning globe in his music video featuring J-Rock (not to mention that bass and percussion really hit in his song). The globe emulates the literal and metaphorical fires all over the country. He says, "who said it was a lockdown" as a representation of the world bursting in flames. What a visual image to be left with. 
The fear of being Black in America contrasts with messages of hope through Young Gifted and Black by Jennifer Hudson and Lonr imagining the possibilities of longevity of Black people. Lonr repeats, "I hope so." This becomes a wish to transcend the ills of this world, as Black people experience it.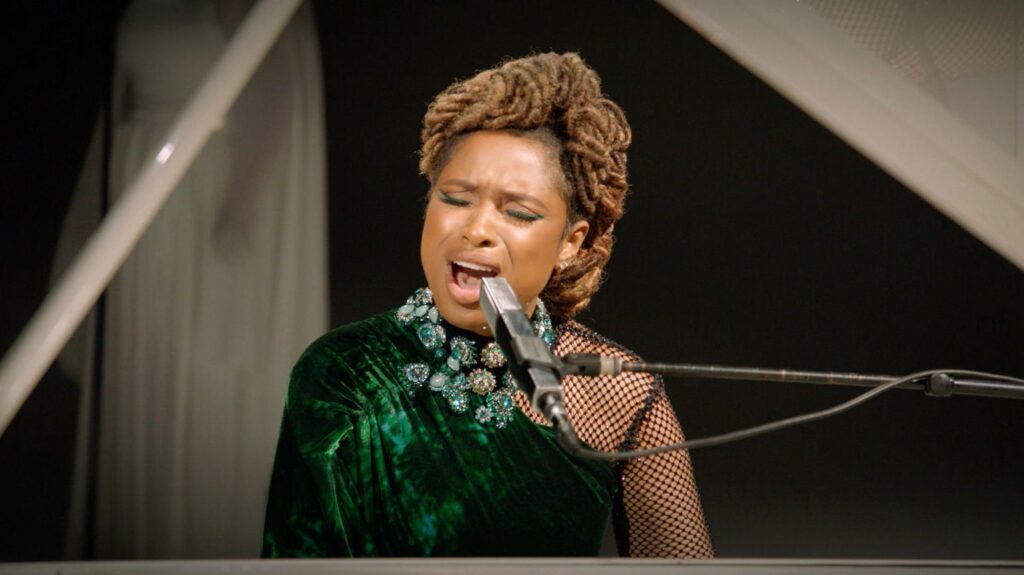 Tributes and Street Fruit
BET celebrates the lives and bodies of work of tremendous individuals who impact the culture. They did Little Richard justice by maintaining his spirit in the performance of Tutti Frutti with a contemporary flair. All I got to say is "yes" to the gold suits and bow ties, honey! 
Additionally, the tribute to Kobe Bryant by Lil Wayne was well done. One of Kobe's quotes was "to be the best, you try best." After all, Kobe was considered one of the most successful US sportsmen of all time, with many top 10 sportsbooks paying tribute to him by ceasing betting out of respect after his death. The rapper's upbeat song, filled with basketball references and colloquialisms that are adopted into our culture, showcased the cultural mark that Kobe makes even after his life. The legacies of all these amazing influencers precede them and shift Black people to think of art, pursuing passion, and expressions of joy as immortality.
Furthermore, like a list of names of the sick and shut-in, strange street fruit buds all over the country. The montage of the lost and the montages of zooming in on the skin and a pair of blue eyes evoke the eerie, skin-deep, turbulent, abusive and emotionally unavailable relationship with Whiteness from Toni Morrison's Bluest Eye. 
In the same manner but in a more empowering sense, Alicia Keys continues this complex conversation of our people murdered by police when she plays in the middle of the street surrounded by images of Sandra Bland, Breonna Taylor, and others. The symbols of empty pianos arranged around the singer represent those who should be playing this song with us but have chalked out names, written on the tablet of our hearts. 
Say the names of those who rest in power. Continue their legacy in our actions, art, words of our mouth, and meditations of our hearts.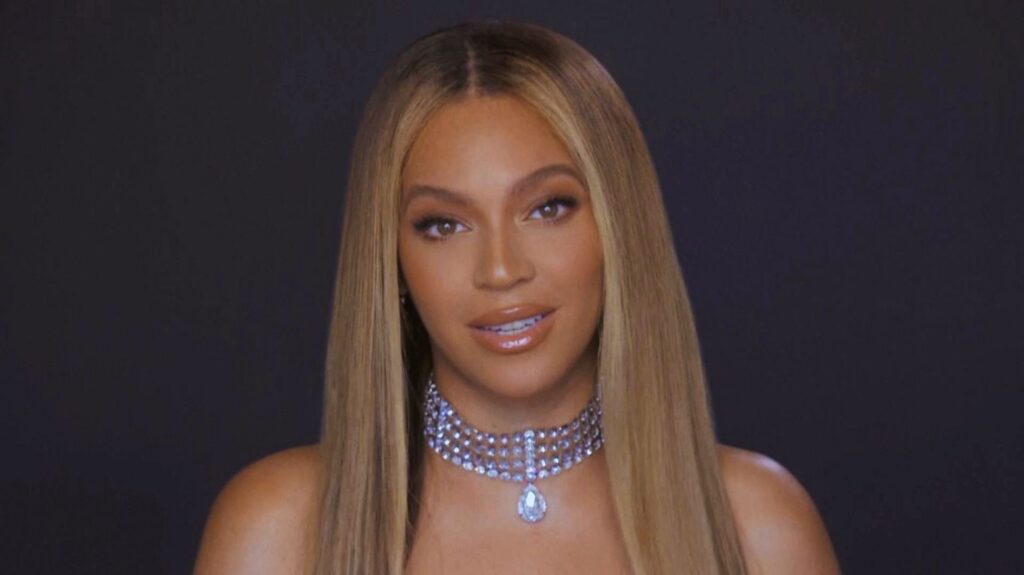 Lemonade Black Excellence Accolades 
Time and time again, we carve out excellence and "liberation out of exploitation." We make do and do the most when life gives us lemons. We transform, inspire, survive, and create. In the many awards and performances, we prove just that. For instance, Lizzo winning the best female pop/hip hop award. She wears a dress that evokes imagery from beauty pageants because of the white sash-like ruffle applique on her back dress. She further proves Black beauty and body positivity by juxtaposing her accepting the award with image of her album of herself naked in the background. If that isn't an example of the clever visual framing of her statements, I don't know what is.
Notable mention: the performance of Chloe x Halle had bionic movements in pleather with bamboo earrings with odes to beauty, femininity, and Blackness. Dancing side by side in black and white makes a statement about the binary they exist in and thrive in. The duo of Summer Walker and Usher did the same thing, ushering in beauty in musicality and whimsical sartorialism (Walker's pink ensemble and dread ponytails) and imagery (pastel pink shades and clouds).
Karen Clark Sheard and Kierra Sheard usher in prophetic healing while singing Something Has to Break. That song proclaims that change must occur and that chains can't help but to break. Even the performance of Jonathan McReynolds' People with Kane Brown speaks about the transactions between people of baggage and hurt. All of these gospel artists seek to heal the brokenhearted through their ballads of change and forgiveness of people who cause trauma in your life. 
Lastly, the performance of Queen Tings by Masego glorifies the beauty of dark-skinned Black women and notes the healing in Black love. He asserts a similar yet nuanced message of the other performers that the divinity in Blackness is the source of our healing and legacy.
For the Queen of Lemonade Herself 
Beyoncé is introduced by our forever First Lady, Michelle Obama, as the 2020 Humanitarian Award recipient. In all that she does, including her HBCU Homecoming Scholarship and COVID-19 aid, she makes Lemonade and does it fiercely. Bey embodies the message of the awards this year, that we should incubate instead of isolate, create instead of stagnate, and press on in our Lemonade making.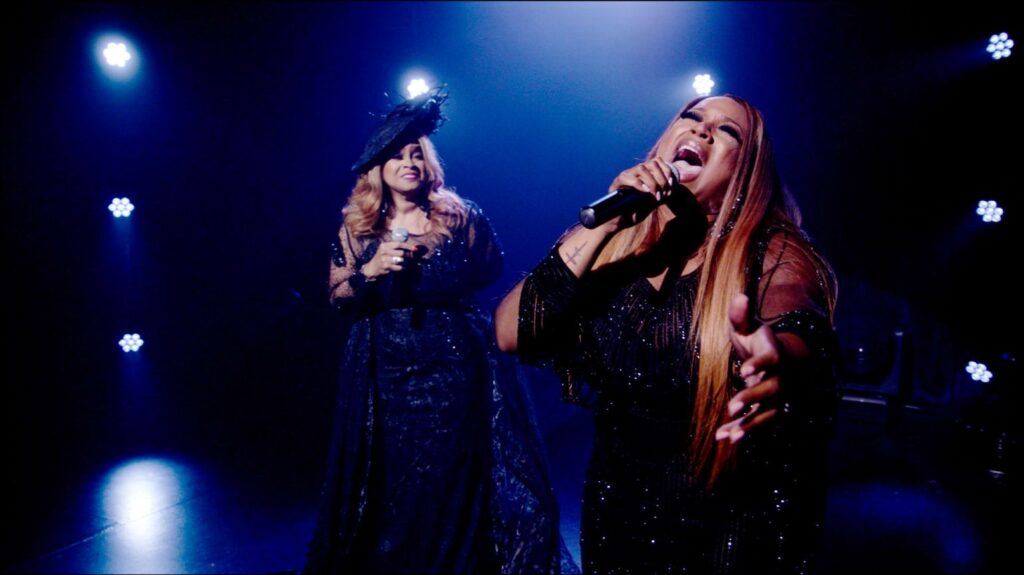 "Beating Heart That Will Beat for Time to Come"
Overall, in the quote by Bob Johnson on the show, he says that this will be the "beating heart that will beat for time to come." BET commemorates their 40 years in power in the entertainment industry, and the awards go out with a bang. No matter what COVID says, they embrace the new medium of doing things virtually. Their coverage and celebration of the culture, as well as the tributes to the fallen ones in our struggle against white supremacy, will always continue.  BET will continue to express these realities without avoiding them and communicate an uplifting message. The culture pulsates during a pandemic. Our heart will forever go on.