Above: Artistic Director of the Alvin Ailey American Dance Theatre Robert Battle. Photo by Andrew Eccles
Robert Battle is no prodigal son. Though he is only the third person to step into the role of Artistic Director at the legendary Alvin Ailey American Dance Theater, following Judith Jamison and Ailey himself before him, Battle has never forgotten his roots in Miami's Liberty City. If anything, the tremendous responsibility he has taken on in shepherding the world's most celebrated African-American dance company into the future is only bolstered by the responsibility he already feels to his forebears. Unlike the prodigal son, his accomplishments in the wider world only added to the fortune he already carried with him, and he's bringing it all back home.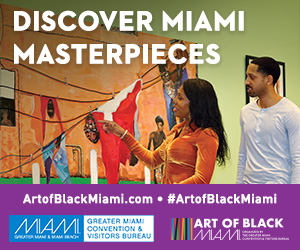 "It started when my great aunt and uncle adopted me from my birth mother when I was three weeks old. It started when they got me braces for my legs to get them straightened. It started when I got a full scholarship to Julliard, and I left here with all the family and teachers who believed in me encouraging me to take full advantage of this. They were people who made sure I had everything I needed when they didn't have everything they wanted," says Battle. "It's a wonderful responsibility and opportunity to bring along all of those people who guided me, so I'm not alone in what I've chosen and been asked to do. I feel the support of the ancestors."
It's with this spirit that Alvin Ailey American Dance Theater returns to Miami this February 22nd to 25th to celebrate Black History Month and a decade of performances at the Adrienne Arsht Center. It's the New York-based company's only South Florida stop on its 21-city tour. Over four nights, Ailey will present both new and celebrated pieces including the Florida premiere of "Members Don't Get Weary," choreographed by another native son of Miami, acclaimed dancer Jamar Roberts. The piece, which premiered in December 2017, has won high praise from the New York Times and other publications.
"I call him the gentle giant. He's truly a renaissance man," says Battle of the star dancer and choreographer. "He was inspired, if you want to put it that way, by all the negative things he was seeing on social media and television, all the rancor that is palpable right now. He was thinking back to the church and faith and spiritual affirmations and everything we have depended on as a people to get us through hard times. He's also been looking at the blues in a way, and how it affects our relationship to one another, our inability to be tender to a lover or there for a friend, especially when we're under siege; how we sometimes run for cover instead of running to each other."
The piece joins a storied repertory that continues to transmit a deep spiritual legacy of enormous value to the African-American community. In fact, it was watching Ailey's masterwork "Revelations"—said to be the most widely-seen modern dance work in the world; it still serves as the finale of every show—that convinced Battle to become a professional dancer in the first place.
"I must have been around 12 years old," he recalls, fondly. "It was at the Jackie Gleason Performing Arts Center on Miami Beach. I had just started studying dance, so I knew how difficult it was to make a line in space, to hold your leg in the air, to jump and land as they did. To see people do it in such a graceful and fierce way was astounding."
Seeing it in an environment where he didn't feel he belonged carried its transformative weight, Battle explains. "We didn't go to Miami Beach much back then. This was before the rejuvenation, a lot of it was forgotten. Certainly, African-American folks weren't hanging out there, at last not from what I could see. There was something about being in that particular theater and seeing people who looked like you on stage, and they were the very reason why everyone was there and applauding! That exchange said a lot to me about what you could achieve as a dancer. There were so many levels to that moment."
Today, Battle seeks to foster such moments not just through the company's many performances, but through community outreach as well. Miami is one of ten cities to host the annual AileyCamp, a six-week summer camp where students are immersed in the world of dance and creativity. It recalls Battle's upbringing in Liberty City, where he was surrounded by the arts.
"It's all due to my mother who played piano for the church we attended in Liberty City. She was an English teacher for Miami Springs Senior High who had a group called The Afro-Americans; they did poetry and song related to the Black experience," says Battle. "I was surrounded by music, poetry, and watching everyone from Fred Astaire to Bojangles Robinson, Michael Jackson to Mikhail Baryshnikov. Every chance I get I say where I'm from. There are so many misconceptions about Liberty City that we don't have the currency of culture. Right now, I and others who have come through here have the opportunity to make sure that we correct this notion about what we have and don't have. I'm proud of Moonlight, Tarrell [Alvin McCraney] and Barry [Jenkins]. We're in a wonderful moment, and we need to keep this attention on Liberty City. It's important that we keep the story flowing."
Powered by this conviction, Battle hopes to strengthen Ailey's connection to Miami, and hopes the community responds in kind.
"In times when we need to be inspired, we have to put our money and our time where our mouths and hearts are, and we just have to show up," says Battle. "We have to support these great institutions of color that represent the best of who we are. If we don't, then we can't complain when they are no longer. Sometimes to take a stand we have to take a seat and see something that liberates us."