Above: Moon Rocks by Mark Bradford. Photo by Joshua White.
This year, Art Basel Miami Beach 2017 saw steady sales. There are numerous fairs and opportunities to attract new collectors and buyers, and everyone had a chance at leaving with less than they brought to Miami Beach. Here are the artists and fairs that made sales over the past weekend:
Prizm Art Fair: Prizm Art Fair had a great week with over 6 deals made including a sale of T. Elliot Mansa.
Addonis Parker: Mr. Parker sold Jesus  Walks (2017 African Heritage  Cultural Arts Center).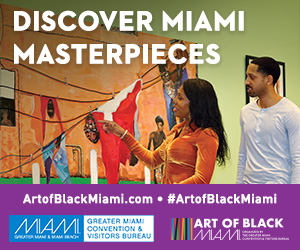 Mark Bradford: Mr. Bradford sold two works: Fly in the Buttermilk (2002
 from Mnuchin Gallery), in a collection for $3 million and Moon Rocks (2017 from Hauser and Wirth) for $5 million.
Rashid Johnson: Untitled Collage sold for $215,000.
Henry Taylor: Sungtae Kim – Drinking coffee in my Chinatown Studio (2012 at Blum & Poe) for $110,000.
Nathaniel Mary Quinn: Mr. Quinn sold various portraits ranging from $10,000-$60,000 ( Rhona Hoffman Gallery)
Fiereli Baez: Two untitled works by Ms. Baez sold for between $55,000-$75,000.
Carrie Mae Weems: The Blue sold for $80,000 ( 2017 from Jack Shaiman Gallery).
Kwame Braithwaite: Various photos from the 1960's sold for $8,000.
Ibrahim Mahama: Mr. Mahama's work sold for $441,273.
Gerald Williams: A small piece by Mr. William sold between $25,000-$35,000.
Sam Gilliam: Mr. Gilliam's Blowing Cool Red, sold for $80,000 (Mnuchin Gallery).
Frank Bowling: Two Mr. Bowling's pieces sold for between $300,000 to $500,00.
Congratulations to the Goodman Gallery. The Goodman Gallery sold work by Hank Willis Thomas, Misheck Masamvu, Gerald Machona and Kudzanai Chiurai. Also, congratulations to Dawn Stringer who came in second place at the Bombay Saphire Artisan Series.