I am a foodie.
This fact has been very present in my life since maybe twenty years ago, when I tasted my first hot fudge sundae at a nostalgic Americana diner with my friends one weekend (or on a Sunday).
The ingredients weren't anything special – 50's era glass ice cream container, two scoops of vanilla ice cream topped with a warm drizzling of chocolate fudge, whipped cream and a glossy red cherry.
But there was something about its presentation that made the eating experience so romantic – if I had social media back then (and not its boring and uncool uncle, AOL), I would have taken a picture of it and framed it so I could gaze at it for all time.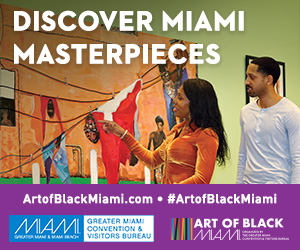 That's when I learned to see food as more than just sustenance and fell in love with the concept of cooking. I went out and brought all the cooking equipment I would need, after quickly checking the reviews on a site similar to this website. I had finally realized how special food can be. It could be a time capsule, preserving the culture of a long-forgotten time.
It could also art.
And art is what was on display and on the menu on the inaugural installment of Spice It Up Miami (SpiceItUpMiami.com) this past Saturday at Miami's Little Haiti Cultural Complex. From the Basquiat inspired graffiti to the island décor at each dining table, you felt immersed in an innovative and culturally diverse restaurant.
But it was better than a restaurant. I mean, it had the feeling of a restaurant in the sense of Restaurant Equipment and cutlery, but it was better than your usual meal out. Sure, restaurants might have fancy things like restaurant pos systems in place to make ordering and paying a breeze, but a restaurant visit sometimes becomes more about your seating arrangement than what you are eating. And even then, if you're not a foodie, you may only classify your visit as a temporary escape from your lunchtime cubicle or cramped dinette at home.
Spice It Up Miami is an interactive immersion of Caribbean cooking and foodie culinary experience where food is consumed with the same joy you had making it.
At the helm, Jamaican-born and South Florida resident Chef Irie demonstrated how to handle the food you would ultimately be cooking yourself – think of it as a larger dinner party where you cook your food in front of your guests and enjoy. I usually have the help of sites like https://preparedcooks.com/how-much-does-a-gallon-of-milk-weigh/ to find out answers to any questions I have or to get interesting new recipes, so on this scale is wouldn't be anything I'm used to but surely a big achievement.
But cooking food isn't the only entrée – between courses, professional salsa dancers sizzled with their electrifying performances.
I brought my best friend who loves cooking at home and she really enjoyed the interaction with the other guests as each dining section worked together to create each course. I did as well.
Saturday's pre-selected menu began with an appetizer of plantain chips with chickpeas and guacamole dip which was already set up at our tables. We then watched Chef Irie prepare the next course – shrimp and mango ceviche.
As he demonstrated at the front of the room, bowls of ingredients arrived at our tables and we worked together to recreate the dish. As we prepared, the all-star chef visited and assisted the budding cooks which was so much better than any fancy restaurant service you could get and the experience was UNDER $70.
Also, if you did make it to the first installment, fear not. Spice It Up Miami will be hosting every second Friday of the month through the fall, continuing on May 12th with Chef Creole and June 9th with Chef Sherron. My suggestion – DON'T WAIT, make a reservation as soon as you possible!
As we finished our ceviche, we served ourselves and channeled our inner food critic, figuring out if we put enough spice to our dish. Personally, I liked how the sweetness of the mango cut through the spice of the onion.
The main course was a reimagining of a Soul Food classic – spiced shrimp with cheese grits – which was
brought to our tables in measured individual containers. The verdict – DELICIOUS!
But the big finale was the night's dessert – spiced banana fosters in rum sauce. The challenge was the fine art of lighting the cut-up bananas on fire with the rum sauce and browned sugar in a frying pan. Guests were testing out their skill
Overall, this dynamic alternative to nightclub dancing or Netflix bingeing at home will bring out the hardworking Miami foodies as well as tourists who don't want to deal with gridlock traffic and parking stress of South Beach.
But beyond its reasonable commute, Spice It Up Miami brings sophistication and glamour to an area of Black Miami that isn't usually synonymous with those descriptors, insuring Little Haiti of becoming the culinary beacon for South Florida.