The Urban Collective and the City of Miami , SEOPW CRA gear up to present a top-notch line-up of the most exquisite contemporary artwork from Africa and its Diaspora during 2nd annual Art Africa Miami Arts Fair. With a pavilion themed around the art and culture of the African Diaspora and housed in a grand 8,000 square foot exhibition tent adjacent to the Lyric Theater at 919 NW 2nd Ave. Miami, FL , the Miami Arts Fair will fare like no other Art Basel event. The Art Africa Miami Arts Fair is the first comprehensive fair to debut within Art Basel in some time and the first of its kind to feature the art of the African Diaspora exclusively.
This year's exhibition will host over 50 contemporary artists from the Global African Diaspora in a tent/container hybrid model pavilion, which is sure to draw the curiosity of art enthusiasts, collectors, and aesthetes alike. Fair goers and exhibitors will have the opportunity to experience an unparalleled body of work selected by a jury of art professionals whose contributions to the art world are extensive and of critical importance to both seasoned and emerging artists alike.
Art Africa Miami is set to serve as the cultural arts epicenter of Art Basel; as the fair celebrates everything from Jamaica's 50th anniversary featuring a special exhibition from artists of the Caribbean including Jamaica, Trinidad, Haiti and Barbados, to the musical honoring of the great Mambo King, Cachao, to the highlighted works of the Global African Diaspora's best contemporary visual artists. Panel discussions on the state of contemporary visual arts in the Global African Diaspora will round out the exhibition, stimulating the dialogue of exhibitors beyond the point of awe and observation.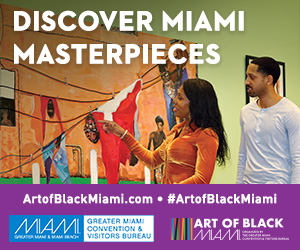 "South Florida temporarily transforms into an art Mecca during Art Basel and we wanted to give people the opportunity to learn and experience the unique culture of our local Diaspora artists", states Commissioner Michelle Spence-Jones.
"Art and Sustainable Design are powerful agents for positive transformation in our communities. We see the change happening throughout South Florida. The Urban Collective and Art Africa Miami plan to be a part of that transformative narrative for years to come", states Neil Hall, Owner of The Urban Collective.
Schedule of Events:
TUESDAY DEC 4TH
OPENING RECEPTION with DJ OHSO
The Urban Collective, |6:00-10:00 pm| By Invitation
at TheUrbanCollective, Midtown
THURSDAY DEC 6TH
City of Miami VIP/ Press Luncheon (By invitation) |12:00 pm-3:30 pm|
Evening First Look (By invitation) |6:00-10:00 pm|
Black Art in America and Non Radio Music: Mobile Media Lounge |7:00-9:00 pm|
Art Africa 2012 After Hours Speakasy at Avenue D |10:00- UNTIL|
FRIDAY DEC 7th
Art Africa Miami Arts Fair Exhibition General Admission |11:00 am -6:00 pm|
SATURDAY DEC 8TH
Art Africa Miami Exhibition |11:00 am-7:00 pm|
Diaspora Dialogue |1:00-3:00 pm|
SUNDAY DEC 9th
Art Africa Miami Arts Fair Exhibition |11:00 am-6:00 pm|
Closing Mixer at Soyka |7:00 pm- 10:00 pm|
VENUE ADDRESS
919 NW 2nd Ave
Overtown, Miami
MULTITUDES ART GALLERY
5570 NE 4th AVE Miami, FL 33137
​
MIAMI ART SPACE
244 NW 35th Street Miami, FL 33127
www.miamiartspace.com
For more information on Art Africa Miami and Art Africa Miami programming visit www.artafricamiami.com and follow on Twitter @ArtAfricaMiami.