The Urban Collective, in collaboration with The SEOPW CRA, presents the Second Annual Art Africa Miami Arts Fair, featuring fine contemporary artwork from Africa and its Diaspora; a complete pavilion themed around the art and culture of the African Diaspora and housed in a grand
8,000 square foot exhibition tent. It is the most comprehensive fair to debut within Art Basel in some time and the best of its kind to feature the art of the African Diaspora exclusively.
This year's exhibition will be host to 50 contemporary artists from the Global African Diaspora in a tent/container hybrid model pavilion, which is sure to draw the curiosity of art enthusiasts, collectors, and aesthetes alike. This will give our fair goers and exhibitors an opportunity to experience an unparalleled body of work selected by a jury of art professionals whose contributions to the art world are extensive and of critical importance to both seasoned and emerging artists alike.
Art Africa Miami will kick of on Tuesday, Deccember 4 with its opening reception at The Urban Collective Design Store in Midtown Miami from 6pm to 9pm and resume on Wednesday, December 6th to Sunday December 9th from 11am to 7pm with a VIP Press Brunch and Evening First Look from 6pm to 10 pm on Wednesday, December 6th.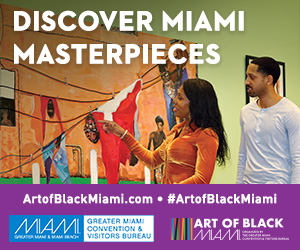 Supplementing this year's exhibition will be a varied program of events which include entertainment from our expanded network of partners including the Mobile Media Lounge hosted by Black Art in America (BAIA), the Miami Jazz Society and Rockaz Movement for the musically inclined fair-goer. We will also host Diaspora Dialogue, a panel discussion addressing relevant issues concerning the African Diaspora in contemporary art.
For more information on Ar t Africa Miami & Art Africa Miami programming visit www.artafricamiami.com