This Week in African Art and Culture (August 7-13, 2022)
This Week in African Art and Culture brings stories from Ghana, Senegal, South Africa and Nigeria. Accra, Ghana is bustling with energy and excitement as the 2022 edition of the largest street art festival in the country begins. A Senegal-based Ghanaian author shares exciting news concerning her latest romantic novel.
In South Africa, a new award dedicated to recognizing and honoring a woman artist has identified its first winner. In Nigeria, the cultural scene mourns the passing of an iconic personality and storyteller in the literary and film scene …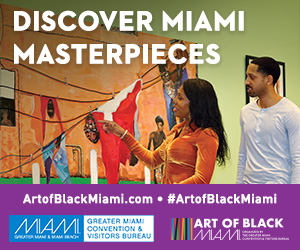 Chale Wote Street Art Festival Begins 2022 Edition in Accra
Chale Wote Street Art Festival, an annual event that brings art, music, design, dance and performance out into the streets of Accra, Ghana has begun its 2022 edition. The community-based festival takes place in James Town, one of Accra's most historic communities. It targets exchanges between Ghana-based and international artists creating and appreciating art together.
This year marks the 12th edition of the Chale Wote Street Art Festival (in its 11th year) taking place from Aug. 12-21, 2022 in Accra. The theme for this edition, "Stargate to Africa," embraces the defiance of formal artistic boundaries and fragmentation of social experience through orature.
This year's theme draws indigenous artistic expressions into an interaction with orature, a probing that re-centers perceptions of what constitutes collectivity and power. "Stargate to Africa" represents a shift from the mechanical understanding of African supernatural beliefs and rituals to viewing them as frameworks of political thought. Chale Wote 2022 will unveil exciting work by dozens of interdisciplinary Ghanaian and international artists in design, performance art, murals, photography, laboratories, music and salons.
Chale Wote 2022 will be stretching these projects into a meta-network of deep engagement with community and an exercise in countering historical forms of fracture and flight. By constructing these art projects during Chale Wote, bridges of understanding and possibility among us are built, connecting our visions of reality with one another for affirmation, questions, and the challenge to probe even further.
Global audiences have been connected to artists opening new perspectives, discovering authentic creators, and developing spaces dedicated to independent art and cultural production through the festival year after year. Since its inception, Chale Wote has introduced art enthusiasts to some of the most ground-breaking performers and contemporary artists who are creating.
This year will feature Ouagadogou-based (in Burkina Faso) band Faso Djarabi, Chief One, Zantou Lansre from Chad, Ghanaian lolo funk band Sylence, and a host of classics and favorites. A graffiti mural, extreme sports salons, and film laboratories take place from Aug. 16-19 at the National Theatre of Ghana, along with knowledge-sharing sessions with some of Africa's most prolific creators.
The overall vision of the festival is to cultivate a wider audience for the arts in West Africa by breaking creative boundaries and using art as a viable form to rejuvenate public spaces. The Chale Wote Street Art Festival challenges both artists and community-based audiences to connect through art.
The festival features street painting, graffiti murals, photo exhibitions, theater, spoken word, interactive installations, skate shows, a food and fashion marketplace, photography, live street performances, extreme sports, an African cinema pavilion, street boxing, a fashion parade, a music block party, recyclable design workshops, design labs and more.
It is the first international street art festival organized in Accra, inspiring similar events across the country. More than 200 Ghana-based and international artists participate in the event annually. Over the past years, Chale Wote has transformed the city of Accra into the most active cultural hub in West Africa. The festival has inspired possibilities in public space design through community-supported cultural production.
Chale Wote literally translates to "friend lets go" in the Ghanaian language Ga; it also means "flip-flops" in Ghana.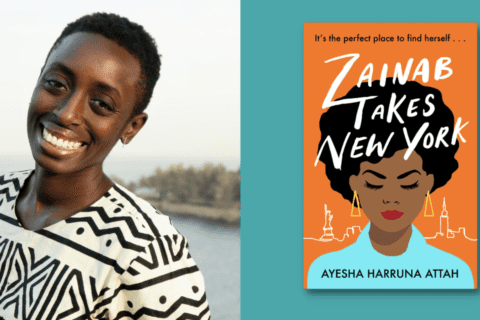 Above: Ayesha Harruna Attah and her book
Ghanaian Author Ayesha Harruna Attah Sells Movie Rights
Zainab Takes New York, by Ghanaian novelist Ayesha Harruna Attah, soon will be heading to the big screen. According to reports from Publishers Marketplace, film rights to the book recently were sold to Assemble Media by Attah's agents at Pontas Literary & Film Agency.
Zainab Takes New York is Attah's fifth novel. It follows the character Zainab Sekyi, a young woman on a quest to make a living as an illustrator who finds love in one of the world's busiest cities. Seeking friendship and love, catapulted into the responsibilities of adulthood, Zainab survives thanks to the voices of her ancestors, who hilariously accompany her in the unfolding of an uncertain future. And so, the brutal and luminous reality of an unknown city, the glory of Bushwick in the heart of Brooklyn, New York, the enchantment of the affectionate terms of the family lexicon, and the spicy scent of Ghanaian recipes lead the reader to think, "we are in New York, if you can do it here, you can do it anywhere. "
Ayesha Harruna Attah was born in Accra in 1983. Educated at Mount Holyoke College, Columbia University, and New York University, Attah has degrees in biochemistry, journalism and creative writing. A 2015 Africa Centre Artists in Residency Award Laureate and Sacatar Fellow, she is the recipient of the 2016 Miles Morland Foundation Scholarship for non-fiction. She currently lives in Senegal. She is already known to the international public and the winner of prestigious prizes for her previous book, The Hundred Wells of Salaga.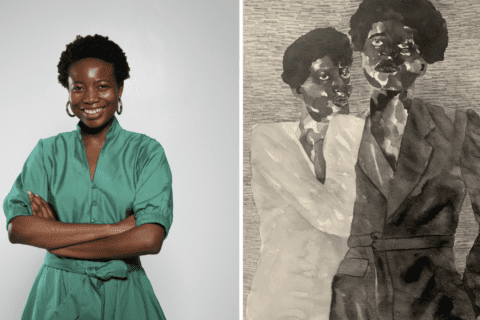 Above: Lerato Nkosi
South African Artist Lerato Nkosi Wins First ANNA Award
ANNA and Latitudes have announced Lerato Nkosi as the inaugural winner of their newly established ANNA Award. The award aims to discover, recognize and nurture a new generation of women artists in South Africa.
Nkosi receives an R100,000 (U.S. $6,143) cash prize, a month's residency at PLAAS in Franschhoek, South Africa, a profile on Latitudes Online, and a year's supply of ANNA products. Her winning artwork will be included in the ANNA Awards Collection.
Lerato Nkosi is fascinated by the influence we wield over each other and how—with a word of encouragement, a piece of advice or a gentle nudge in a certain direction—one person can change another's life. She is even more intrigued by the fact that, often, it's a woman who holds this transformative power.
Lerato says that programs like this—and like the recently launched ANNA Award—are crucial platforms. "It's vital that we create these opportunities for women artists. Our voices need to be heard," she insists, pointing to the evolution of women as an object of the gaze, from the Renaissance to today's compelling creators.
She takes her own role as a creator very seriously. Lerato explains that the message behind her ink and stamp depictions is amplified by her choice of words adorning the piece, usually, a text she's read or a scene from a film. The presence of these words means that the viewer must lean in to take a closer look, inviting them to engage with the meaning at a deeper level.
Lerato's entry for the ANNA Award featured words inspired by her reading of Bell Hooks' All About Love.
"The book held special resonance for me because of its reference to the author's upbringing and the values that developed out of her experiences," Lerato said. In the same way, she said she often thinks about the resilience that she was gifted with through her upbringing and how this helped her grow into the person she is today.
Lerato is both focused and determined ("I feel like I manifested my ANNA Award win, because I knew it would open so many doors!" she said)—and while she is proud of what her past holds, she's even more excited about the future. Lerato currently is preparing for several international art competitions; in each case, her body of work carries the same message. "I want to remind women of our strength. I want to tell whoever is looking at my work that we don't have to be victims; we have the power to change our circumstances."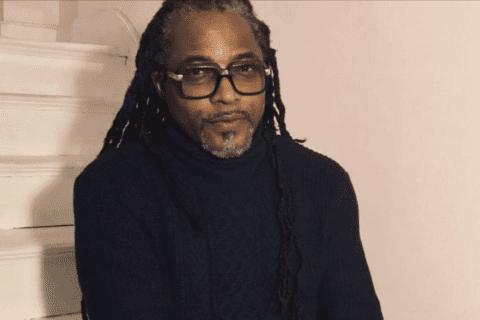 Above: Biyi Bandele
Biyi Bandele, Nigerian Writer, Filmmaker, Playwright and Author Dies at 54
Acclaimed Nigerian novelist and filmmaker Biyi Bandele has died. His death was announced in a statement signed by his daughter Temi Bandele. She wrote, "I am heartbroken to share the sudden and unexpected death on Sunday 7th of August in Lagos of my father, Biyi Bandele. Biyi was a prodigiously talented writer and filmmaker, as well as a loyal friend and beloved father. He was a storyteller to his bones, with an unblinking perspective, singular voice and wisdom, which spoke boldly through all of his art, in poetry, novels, plays and on screen. He told stories which made a profound impact and inspired many all over the world. His legacy will live on through his work."
Born in 1967 in the town of Kafanchan in Nigeria, Bandele began his prolific career in the arts after graduating from Obafemi Awolowo University with a drama degree. While in London for a theater festival, he secured a publisher for two novels he had in the works, followed shortly by a grant from the Royal Court Theatre.
In addition to authoring seven original plays and adapting several other works for the stage, Bandele published five novels: The Man Who Came in From the Back of Beyond (1991); The Sympathetic Undertaker and Other Dreams (1991); The Street (1999); Burma Boy (2007) and The King's Rifle (2009). He adapted The Street into a stage play, Brixton Stories, in 2001.
Bandele's first foray into screenwriting was the anthology drama series Screenplay, which ran from 1986-1993 on the BBC. The series was directed by a young Danny Boyle. In 2013, Bandele made his directorial debut with Half of a Yellow Sun, an adaptation of the 2006 novel by Nigerian writer Chimamanda Ngozi Adichie. The film starred Chiwetel Ejiofor, Thandiwe Newton and Anika Noni Rose in a family drama set in 1960s Nigeria.
Bandele recently had finished his latest film, entitled The King's Horseman. Inspired by Nigerian Nobel Prize-winning writer Wole Soyinka's anti-colonial play Death and the King's Horseman, the drama is set to premiere at the Toronto Film Festival next month. The Yoruba-language film was produced by Mo Abudu's EbonyLife Films for Netflix.
Mo Abudu described Bandele's death as "totally unexpected and a real shock to us all. He was over the moon about Elesin Oba, The King's Horseman premiering at TIFF, and of course, we were all planning to be there," she said, noting that the film was beloved by Bandele "more so than any of the other projects he had worked on with us.
"He knew the source material well and was so excited when he heard about our selection at TIFF," she added. "It's so unfortunate that he will not be there to see the world enjoy a piece of his work that I know he was very proud of and so passionate about."
Bandele also co-directed this year's Blood Sisters for Netflix. The streamer's first Nigerian original series follows friends Sarah and Kemi as they are forced to go on the run after a wealthy groom disappears during his engagement party. Netflix paid tribute to Bandele via a Twitter post, saying, "May he rest in power."
Compiled by Roli O'tsemaye