Sugarcane Presents: Sugarcane Magazine Couture Brunch 2014 With Jewelry Designer Donna Freeman Hughes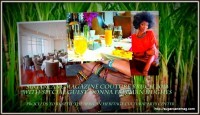 Sugarcane Magazine presents its first celebration of African fashion and all things fabulous with a delectable brunch at the breathtaking Mr. Collins restaurant located in One Bal Harbour. Joins for a sumptuous meal and a chance to watch a one on one interview with model and jewelry designer Donna Freeman Hughes , one half of the jewelry design duo The FF's. You will also have the opportunity to participate in a raffle for great prizes such as:
*Make overs by a celebrity make up artist,
*Interior design services for your home and much more.
All proceeds form our raffle will be donated to the African Heritage Cultural Arts Center to provide tuition assistance to families with financial hardships.
About Sugarcane Magazine Dedicating to uniting and presenting creatives from Africa and the African diaspora, Sugarcane Magazine is an online destination for artists from all walks of the Global Black life experience. From Chicago to Cape Town, from London to Sao Paulo Sugarcane Magazine provides content on visual artists, performers, writers, filmmakers and designers who all share the same African roots.
About The FF's : Created by Cheryl Freeman and Donna Freeman Hughes , The FF's create eclectic and bold jewelry for the both men and women with a keen sense of style.
About the African Heritage Cultural Art Center: African Heritage Cultural Arts Center was founded in 1975 to serve as the nesting ground for emerging talent in the performing and visual arts, providing studio space including performance and exhibition opportunities for artist residents . The African Heritage Cultural Arts Center has fulfilled its mission to the the community for over 30 years by providing a means for emerging artist to work on their craft as well as for youth to develop into artists. African Heritage is currently apart of Miami Dade Cultural Affairs Department.
Purchase tickets here: https://www.eventbrite.com/e/sugarcane-magazines-couture-brunch-2014-tickets-5490101040
Click here for reuse options!


Copyright 2014 Sugarcane Magazine ™| The Global African Stage